3D Launch of the CR-Z Sport Hybrid in America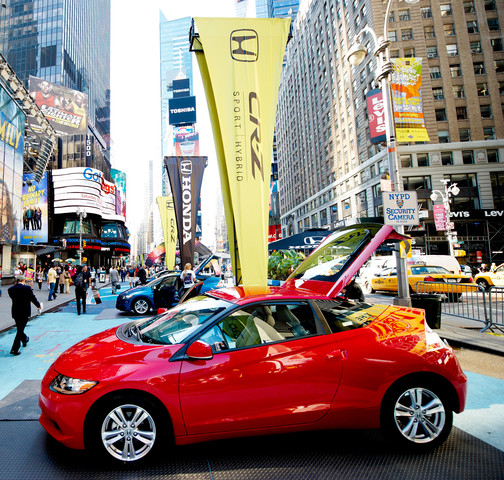 Honda will hold the first-ever takeover of Times Square in 3D technology to support the American launch of the CR-Z sport hybrid on Thursday 23 September.
The event marks the first time 3D footage will be broadcast in a public area. As a part of the takeover, Honda will run 3D CR-Z commercial footage on the Times Square HD screen and Sony will provide 3D Gran Turismo 5 racing simulators. Additionally, Maxim Magazine models will distribute copies of their special 3D October issue and Honda will sponsor a special performance from chart-topping hip-hop trio, N.E.R.D.
Tom Peyton, senior manager of national advertising, American Honda Motor Co., Inc. explains:
To bring attention to the synergy of sport and hybrid that the CR-Z offers, the advertising campaign relies on a variety of non-traditional elements - like 3D technology - to get the attention of young, potential CR-Z buyers, This 3D experience in Times Square integrates advertising, gaming and music into a single, memorable event.
The Honda CR-Z is already on sale in the UK with prices starting at £16,999 for the CR-Z S.