Exclusive Military and Blue Light Savings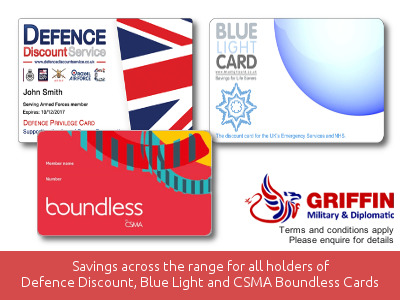 Do you have a Defence Discount Service Card, Blue Light, or Boundless CSMA Card?
Did you know that you can now buy your new Honda with some fantastic savings thrown in, as a 'thank you' from Honda UK for your service to Queen and Country?
As part of their continued support of our front line service personnel, Honda have teamed up with Griffin Military & Diplomatic to offer those eligible a special price for their new car.
Please see below price list, but please note that this is subject to change without notice - please check all prices with your sales executive.
Eligibility
We believe that if you've ever served your country you should be treated differently. You should be supported, both while you're saving, and afterwards; so our discount terms are also available to veterans and reservists as long as you hold a valid DDS Privilege Card.
If you fall under any of the following categories you may be eligible to get one of the three cards above:
Serving military
Serving M.O.D. personnel
Military veteran
M.O.D. veteran
Military reservist
Police officer
Firefighter
Paramedic
Registered nurse
Registered doctor
RNLI personnel
Civic servant
Please note that this programme is run by Griffin Military & Diplomatic and is strictly monitored. Proofs of service will be required prior to ordering or delivery.
Further Information
If you would like further information please contact our sales team on 01932 874411.