Honda named greenest car-maker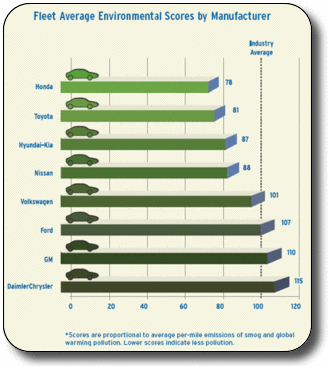 In the latest ranking from the Union of Concerned Scientists, the US pressure group, the Japanese brand topped the table for the fourth time in a row.
It narrowly beat Toyota, which was commended for making cuts in global warming pollution. Hyundai-Kia was placed third, followed by Nissan and Volkswagen. The US car-makers fared poorly with Ford in sixth place ahead of General Motors and Daimler-Chrysler, which was ranked as the least environmentally friendly manufacturer.
There is a huge gap between the cleanest and dirtiest car-makers
Don Mackenzie - Union of Concerned Scientists
The UCS report found that Daimler-Chrysler scored the worst for both smog and global warming pollution. Its cars and trucks emit 70 per cent more smog-forming pollutants and nearly 30 per cent more global warming pollutants per mile than those made by Honda.