One Million Civics produced at Honda in Swindon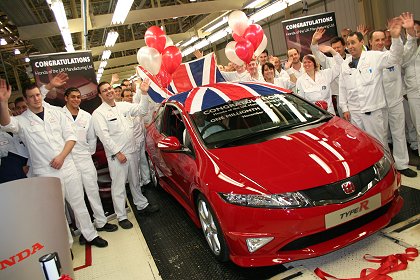 Honda UK Manufacturing Limited (HUM) celebrated a major milestone on Friday November 9th with the production of the millionth Swindon-built Civic, further underlining Honda's long term confidence in UK manufacturing and Swindon.
Civic production began on September 19, 1994 and in that first year just 6,652 Civics were produced. This year, HUM will produce 138,792 Civic cars.
David Hodgetts, HUM Director, said:
We are the only Honda plant in the world manufacturing the Civic 5-door and 3-door models and are extremely proud of the fact there are one million happy customers driving Swindon-built Civics.
Over the 20 years since HUM began operations, it has gone from strength to strength. Over the past 12 months, production has been ramped-up from 190,000 to 250,000 cars per year. This is due to increasing demand for the Civic 3-door and 5-door models and the latest CR-V - all built at Swindon, and exported to over 60 countries. Honda has invested £1.38 billion in Swindon and now employs 5,000 Associates at the factory.
The millionth Civic is a red Type R destined for the British market. Ken Keir, Managing Director of Honda (UK) and Senior Vice President of Honda Motor Europe said:
Civic remains the cornerstone of our UK and European success. Customers love its innovative design and build quality, which not only retains a huge loyal customer base, but is key to us winning new sales across Europe.