Honda announces Ecological Drive Assist System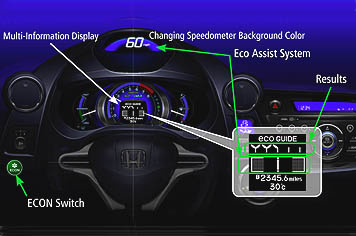 Honda has announced a new system to encourage economical driving. Unveiled at the Los Angeles motor show, the Ecological Drive Assist System will make its debut in the new Insight saloon, which goes on sale in spring next year.
It combines three functions: an ECON system that controls the engine and transmission to support more fuel-efficient driving, a guidance system that tells drivers when to change gear and a dashboard scoring display that provides feedback on driving.
John Kingston, Environment Manager at Honda, says:
Hybrid technology delivers great fuel economy and low emissions, but these can both be affected by driving style. This new package encourages greener, more efficient driving, in a fun and engaging way.