Honda CR-Z - official pics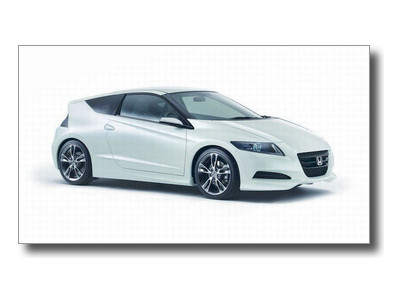 Official pictures have been released of the Honda CR-Z concept, the first hybrid with seriously sporting pretensions.
Honda is set to unveil it at this year's Tokyo motor show in late October and, despite the 'concept' tag, Honda sources say that it's nine-tenths production ready and will be in UK showrooms by the summer of 2010.
The powertrain is related to the IMA hybrid system in the insight, but the 1.3-litre is likely to be ditched in favour of a 1.5-litre unit from the Japanese-market Honda Jazz. That unit gives between 110bhp and 120bhp, so expect a power output of close to 140bhp once the electric motor has its say.
The best news of all is that the CR-Z will also be the world's first hybrid with a conventional manual gearbox, the six-speed unit being chosen in favour of the more usual CVT transmission.
When it goes on sale next year, the diminutive front-drive coupe (it's said to be 115mm shorter than an insight, whose platform it uses) will be pitched to compete with the lower end of the VW Scirocco range and the Volvo C30, so expect a price tag of £17k-£19k