Honda Skydeck concept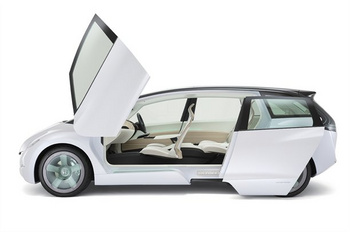 Honda is testing reaction to a future rival for the Ford S-Max with a new hybrid concept called the Honda Skydeck.
The sleek MPV is likely to replace the FR-V for Europe, although it has a more conventional three rows of seats instead of the previous car's two benches. The car's proportions are only slightly smaller than those of the Ford, and it is substantially larger than the FR-V in all but width.
Honda is keen to expand its hybrid range into a number of different segments, and that is likely to include people carriers.
A Honda source said:
Honda wants to introduce a range of hybrid vehicles that appeal to different markets, There are currently no plans to put the Skydeck into production, but you can see the way we are going with this.
One significant feature of the Skydeck is that it relocates the hybrid system battery from the Insight, which normally lies beneath the rear floor to save on passenger space.
The battery is now mounted within the centre console that runs along the cabin floor and may be a key feature of a next-generation Honda IMA hybrid system designed to power bigger vehicles.