Honda Insight is Britain's Greenest Car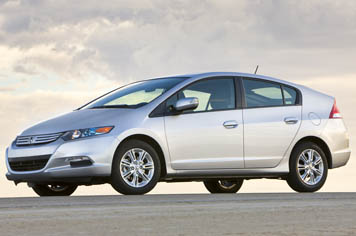 Britain's 'greenest' car is the Honda Insight with the 'least green' car being the 8.0 litre Dodge SRT-10, according to the Environmental Transport Association (ETA). It calculates that a year's driving in the Dodge emits the same amount of carbon dioxide emissions as is absorbed by 322 mature trees - the equivalent of an acre of oak forest. The ETA examined over 1,300 models of car currently on sale in Britain and compared their power, emissions, fuel efficiency and the amount of noise they produce to create a definitive guide to buying the 'greenest' vehicle.
The Insight, which has emissions of 101 g/km captured the Green Car of the Year 2009 title, while the Dodge emits 488 g/km. The Insight was also named the best small family car from a 'green' perspective.
Andrew Davis, director at the Environmental Transport Association, said:
The discrepancy between the greenest and the least green cars in Britain today is striking, but the market is changing and a combination of consumer pressure alongside Government leadership will result in an increasing choice of environmentally-sound cars. The big problem is not the Dodge SRT-10s and Lamborghinis because there are not many of them on the road. The concern is that people are continuing to buy cars that are much too big for their real needs. With the increasing costs of motoring and the threat to the environment there has never been a more important time to choose greener cars.
A full list of category 'winners' and 'losers' is available at