Honda Racing Team announces BTCC Drivers for 2011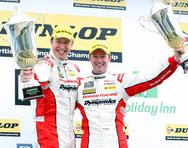 The Honda Racing Team today officially announced that drivers Matt Neal and Gordon Shedden will once again be behind the wheel of the Honda Racing Civics for the 2011 Dunlop MSA British Touring Car Championship.
The strong partnership of twice BTCC champion Matt Neal and Gordon 'Flash' Shedden will build on the successful 2010 season for the Honda Racing Team. Both drivers were in contention until the final round at Brands Hatch earlier this month where they narrowly missed out in the fight for the Drivers' crown, finishing in second and third spot respectively.
Neal, 43, from Worcester notched up 5 wins over the season while his team mate Flash, 31, from Fife also had 5 wins. Shedden was recently awarded the prestigious BRDC Silver Star over both team mate Neal and the 2010 BTCC Champion Plato, for scoring more points overall in his top 12 finishes this season.
Honda (UK) and Team Dynamics are already working closely together on plans and car development for the 2011 season. The team walked away with both the Team and Manufacturers' Trophies and the target is for a clean sweep next season, so no one is resting on their laurels.
David Hodgetts, Managing Director Honda (UK), said:
We are thrilled to announce Matt and Gordon as our drivers once again for next year. They have shown they are a winning combination on the track and they are excellent ambassadors for the Honda brand off the track too.
Matt Neal said:
I'm looking forward to a thrilling 2011. The Civic is a real driver's car which gives you amazing performance and road holding both on and off the track. I can't wait to get the season started again.
Gordon Shedden agreed:
It was great to be back home in the Honda Civic in 2010 which delivered fantastic results. The aim is to come back even stronger and go for a clean sweep of titles in 2011. Bring it on!