The CR-Z is a Triple Winner!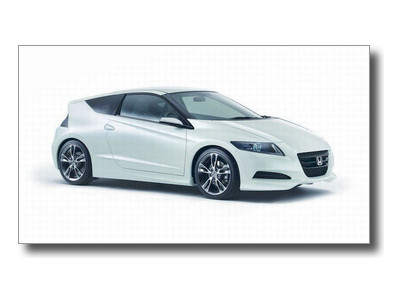 Honda's CR-Z - the world's first sporty hybrid - has impressed judges at Stuff magazine, Japan Car of the Year and the RAC Future Car Challenge to collect three top accolades in just seven days.
On Tuesday, the hybrid coupe beat tough international opposition to become Japan Car of the Year 2010-2011. This is the 11th time a Honda car has collected the prestigious honour - making it the most successful manufacturer in JCOTY history.
Takanobu Ito, President and CEO of Honda Motor, said:
We are very proud that the CR-Z has been selected from the strong contenders of new models as the Car of the Year Japan 2010-2011. This award shows that the public has accepted Honda's aspiration to supply exceptional environmental performance in a fun-to-drive hybrid car at an affordable price, as well as Honda's desire to spread the joy of owning and driving a car.
The award-winning run continued last night, as the CR-Z scooped Eco Gadget of the Year at the Stuff Gadget Awards.
Fraser MacDonald, editor-in-chief at Stuff magazine, heaped praise on the CR-Z:
The Honda CR-Z looks great, and it feels great to be in. It's also relatively small and light, so - for an unethical minute or two - hit the 'Power' button and work the manual gearbox, and it'll go like a little rocket. Plus - and this is the icing on the eco cake - normal people can afford one.
The Stuff prize tops off a successful week for Honda's great-handling hybrid. Last Saturday, the CR-Z took part in the first RAC Brighton to London Future Car Challenge and was awarded Most Economical & Environment Friendly Sports HEV.
The new honours join the What Car? Green Awards' Best Sports Car trophy in the CR-Z's already crowded cabinet.
Martin Moll, Head of Marketing at Honda (UK) said:
What a week for the CR-Z! This has been a fantastic boost for the car and the range of awards shows the wide appeal of the CR-Z. It's great to be recognised by a magazine like Stuff, and for it to be chosen as Car of the Year in Japan is a huge honour, especially when you consider the strength of the competition. The CR-Z is a unique car, and the first to take a hybrid powertrain and put it into a car that's a genuine pleasure to drive - a true Honda.
The CR-Z is priced from £16,999 OTR and brings together a 1.5-litre i-VTEC engine, six-speed manual gearbox and Honda's Integrated Motor Assist system to make a car that's as fun to drive as it is efficient.