Honda CR-Z is Top Gear Magazine's Green Car of the Year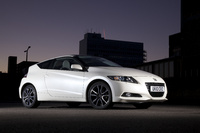 Top Gear has crowned the Honda CR-Z their 'Green Car of the Year' in the magazine's fiercely contested annual Awards. This new trophy brings the total to four awards in as many weeks for the world's first sporty hybrid.
The CR-Z's blend of sporty looks, agile handling and good fuel efficiency allowed it to deal with the bustling back streets of the Third Ring district in China to win over the judges at Top Gear.
Top Gear summed up:
Of all the cars we've brought to China, CR-Z is far and away the one I feel most at home with - and most excited about. Compact, accessible and responsive, it's a breeze to drive in this hectic and distracting place.
This Top Gear honour joins the CR-Z's fast-growing awards cabinet, which already consists of What Car? Green Awards' Best Sports Car trophy as well as the more recent Japan Car of the Year 2010-2011 and Stuff magazine's Eco Gadget of the Year title, plus Most Economic & Environment Friendly Sports HEV at the first RAC Brighton to London Future Car Challenge.
Dave Hodgetts, Managing Director for Honda (UK), said:
To be recognised by a publication as well respected as Top Gear is a great achievement for the CR-Z and for Honda. We're so pleased with the reception the CR-Z has received from the press, especially when you consider the strength of the competition out there. The car has only been on sale for nine months but we're already looking for a bigger trophy cabinet!
CR-Z is priced from £16,999 OTR and brings together a 1.5-litre i-VTEC engine, six-speed manual gearbox and Honda's Integrated Motor Assist system - making a car that's as fun to drive as it is efficient.