Hi-Tech Kit and Racing Looks for Limited Edition Honda Civic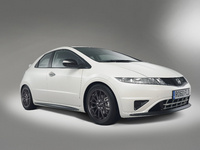 Race-car looks are combined with high-spec interior equipment on Honda's new limited edition model, the Civic Ti. Based on the 1.4 and 1.8 i-VTEC SE variants, the Civic Ti comes with £3,700 worth of extra equipment over and above the standard model.
The 5-door Civic is inspired by this season's Honda Racing British Touring Car challenger, and is fitted with unique, 17-inch 'Pro Race' wheels from Team Dynamics, Honda's racing partner in the BTCC.
The sporty image of these matt black wheels is enhanced by Honda's 'GP' body kit finished in Crystal Black, which provides a stark contrast to the exclusive Premium White Pearl body paint and body coloured trim. The race-like GP kit includes front spoiler, rear spoiler (finished in white), side skirt inserts and rear body skirts.
Inside, the Civic Ti is equipped with a state-of-the-art Pioneer Navigation Multimedia System, which offers full-scale sat nav, entertainment and communication with a 3D graphic touch screen.
This high-end multimedia unit includes a map database covering 44 countries, multiple sensors to ensure more accurate positioning, a traffic message channel receiver to avoid traffic jams and a hands free telephone system. It also plays CD, DVD, iPod, iPhone and USB devices, with on-screen controls.
The Pioneer system provides another link to the BTCC team, as the global audio/video and electronics firm is the main sponsor of Honda Racing Team's attack for the 2011 title.
Honda dealerships in the UK will sell just 500 of the limited edition Civics, which go on sale in March. Prices start at £15,995 OTR for the 1.4 i-VTEC and £16,995 for the 1.8 variant.