Honda Celebrates Best of British with 'Made in Britain' Campaign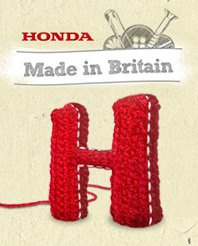 Honda has launched a campaign to find Britain's most talented 'makers', to promote the skills of its car building engineers in Swindon.
'Made in Britain' aims to unearth the country's highly-skilled crafters, builders, innovators and techno-gurus through a new Facebook campaign, which will offer outstanding creators 'Development Awards' worth up to £1,000.
Over 80 per cent of the Honda cars sold in the UK are built by over 3,000 engineers at its plant in Swindon, Wiltshire. The factory produces around 600 cars a day for British drivers, but also for export to 63 countries across the world.
Honda isn't the only one making incredible things on our shores. Britain is buzzing with doers, makers, builders, bakers - creators of all kinds. 'Made in Britain' encourages them to share their skills by uploading details and images of their work to a dedicated Facebook page at: http://www.facebook.com/hondamadeinbritain.
Every three months, Honda will award a development grant to cultivate the talents of the most skilled makers. This could be used to fund a course of classes to improve skills, materials and equipment, or a new website to promote their wares. Ultimately, Honda wants the prize to help these crafters and producers to realise their dreams - whether that's turning an idea into a hobby or even a hobby into a job! This grant will also be supplemented with additional prizes, such as weekend breaks and mentoring from industry peers.
The first stage of the competition, celebrating British Style, will be judged by some of the UK's foremost experts on all things aesthetic, including:
Adrian Clark, Editor of Shortlist Mode Magazine
Alexandra Fullerton, Fashion Director of Stylist Magazine
Agents of Change - A team of culturally diverse, mixed media and art zealots. Identified by Honda as influential cultural engineers of modern society.
Throughout the course of the year, there will be three categories for potential entrants to submit their efforts into:
Feb-June: Style - Anything from funky T-shirts and designer Tea-cosies to creative Sculptures, funky Furniture and even home-made Kit-cars.
June-Sept: Green - We are after products that have been created with consideration for the environment. It could be something that helps us to reduce our existing consumption or could be an every-day item that has been redesigned using environmentally friendly materials
Sept-Dec: Futurology - Whether it is the toaster of the future, an innovative new lawn-mower, a concept bicycle or even futuristic fashion, this is the chance for the British public to give us an insight into the future!
Steve Kirk, Communications Manager at Honda (UK), says:
Britain is crammed with people making brilliant things, and we should be shouting that from the rooftops. We employ over 3,000 incredibly-skilled engineers at the Honda plant in Swindon, and every year they build 140,000 of the most innovative and reliable cars on the road. This campaign is about celebrating their expertise, and the making talents of the nation.