The Hottest Hybrid Yet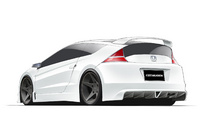 MUGEN Euro is developing a highly-tuned version of Honda's CR-Z, which will deliver Type R-like performance from the hybrid's petrol-electric powertrain - and may offer even better fuel economy. This faster, more powerful car will make its world debut at the Goodwood Festival of Speed in July.
The CR-Z MUGEN will feature enhancements to both the 1.5-litre i-VTEC petrol engine and the Honda IMA system to boost power and torque, while bespoke brakes and suspension will be fitted to improve the chassis dynamics.
The major engine changes, and those made to exhaust and induction, may even result in greater mpg and lower CO2 emissions during some conditions. However, at this early development stage, final power, torque and fuel economy figures are not yet known.
Lightweight components, including a carbon fibre bonnet, will be employed to lower the overall weight, and the car will use MUGEN alloy wheels to reduce unsprung mass. To improve aerodynamics and give the car an even more sporting look, MUGEN body parts will be added, including front and rear bumpers, and a spoiler.
Hiro Toyoda of MUGEN Euro, says:
We wanted to extend the performance of the CR-Z, It is already a fun car to drive, with an excellent chassis, but we thought that with more power and enhanced torque delivery it could be even more exciting. However, as with all MUGEN projects, we have stayed true to the Honda design and philosophy, and the electric motor is still a vital ingredient to boost performance and economy.
The CR-Z MUGEN is a joint project between Honda (UK) and MUGEN Euro - the Northampton-based subsidiary of Honda's long standing tuning partner MUGEN. In 2009, MUGEN Euro produced the Civic Type R MUGEN, an extreme, 240PS version of Honda popular hot hatch.
Martin Moll, Head of Marketing for Honda (UK), says:
This will be one quick hybrid. With more torque, more power and MUGEN's experience of working with Honda cars, we're expecting great things. It promises to show how hybrid cars can be even more exciting to drive.
At this stage, the CR-Z MUGEN is being developed purely as a one-off prototype, with no plans for a production version.