Full Blown Honda Hybrid Charging On!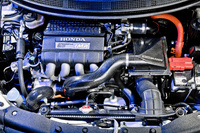 The CR-Z MUGEN is to be supercharged and deliver around 200PS. MUGEN Euro's tuned Honda CR-Z remains on course for its world debut at the Goodwood Festival of Speed in July.
MUGEN has revealed that the high-performance CR-Z hybrid will use a supercharger to deliver over 50 per cent more power and torque from the Honda's petrol-electric drivetrain. The tuned version of the hybrid coupe is expected to produce around 200PS, and 181lb.ft of torque, with significantly enhanced performance throughout the rev range. The car retains the Honda IMA electric motor and the original 1.5-litre i-VTEC petrol engine, which has been rebuilt to MUGEN specification with bespoke upgraded and strengthened internal components.
In order to give a fully integrated and smooth power delivery, MUGEN Euro has developed the MUGEN iCF system, which allows all the elements of the electro-mechanical system to work in harmony.
Colin Whittamore from MUGEN Euro, says:
The idea was to use the significant advantage of the early torque provided by the Honda IMA electric motor, then increase the torque available from the petrol engine gradually, to first maintain and then increase this. A supercharger and complementary electronics allow us to very neatly map the IMA to the extra power and torque of the engine in a unique package, giving a smooth, integrated and powerful driving experience.
As well as improvements under the bonnet, MUGEN has used its extensive motor sport and Honda tuning experience to further develop the chassis dynamics, with 5-step adjustable dampers fitted front and rear, an increase in track width and a large reduction in overall weight.
Bigger brake discs and 4-pot monobloc callipers help stop the more powerful car, while 17-inch forged alloy MUGEN GP wheels reduce unsprung mass.
Elsewhere, the CR-Z gets some cosmetic enhancements in the form of MUGEN body parts, including front and rear under spoilers, side skirts and a rear wing.
It is a joint project between Honda (UK) and MUGEN Euro - the Northampton-based subsidiary of Honda's long standing tuning partner MUGEN. In 2009, MUGEN Euro produced the Civic Type R MUGEN, an extreme, 240PS version of Honda popular hot hatch.
At this stage, the CR-Z MUGEN is being developed purely as a one-off prototype, with no plans for a production version.