Woking Bikeathon 2011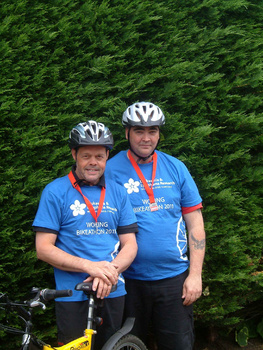 Cyclists who took part in the 23rd annual Woking Bikeathon on Sunday 15th May may have seen a few familiar faces from Trident Garages.
Richard Roberts, Managing Director, was one of the volunteers who marshalled on the course whilst Brian Cruickshank, Sales Support, and Martin Beagley, Vehicle Technician, were two of the cyclists taking part in the charity bike ride raising money for Leukaemia and Lymphoma Research. Together, Brian and Martin have raised over £350 for the cause and successfully completed the course in under 2 hours!
Other familiar faces at the event included Cllr Mohammed Iqbal, Mayor of Woking, and Sue Holderness, most famously known for playing Marlene in Only Fools and Horses, who started the cyclists off on their 13.5 mile or 28 mile bike rides around Woking and its surrounding areas.
The event was enjoyed by over 1,000 cyclists who joined forces to raise money and awareness for a very worthy cause. Congratulations to all those who took part!