Scout May Fayre Winner Announced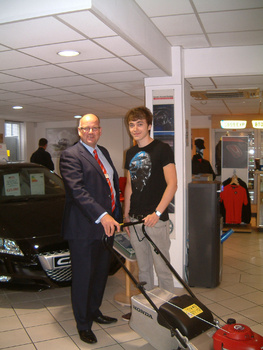 Trident Honda sponsored this year's Scout May Fayre which was held on the 3rd May at the Wheatsheaf Common in Woking.
Staff also took part in the bank holiday festivities and ran a competition to win a Honda lawn mower. Entrants had to guess how many balloons filled up a Honda Jazz and Jamie Anderson was the lucky winner with his guess of 107!
Jamie is pictured on the right with Richard Roberts collecting his prize.
The day was a great success and enjoyed by many!