Honda's Swindon Plant to Resume Normal Production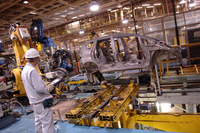 It is the intention of Honda of the UK Manufacturing Ltd (HUM) to return to their normal daily production plan during September. This follows the period of parts supply interruption and reduced production levels following the earthquake and tsunami in Japan. Associates and suppliers have all made tremendous efforts during this period to make this recovery possible.
With parts supply from Japan improving significantly, HUM will now plan production for the remainder of the year to recover volume and quickly respond to customers' requirements.
This announcement coincides with the release of JD Power's annual customer satisfaction survey, which has awarded the Swindon-built Jazz first place in the supermini sector for the eighth year running. Such an accolade, voted by customers, recognises the high standard of work undertaken by our associates at HUM.
Due to the flexible working hours arrangements which exist at the Swindon Plant, associates' pay has been maintained and non-production hours have been banked.
Andy Piatek, Director of Manufacturing at Honda in Swindon, says:
I am proud of all of our Associates as they have shown great flexibility and commitment during this difficult time,
Ken Keir, Executive Vice President of Honda Motor Europe, added:
We would like to thank our customers and dealers for showing great understanding during this challenging period. As production levels recover, we are fully focussed on satisfying customer demand