World Class British Athletes Team Up With Honda (UK)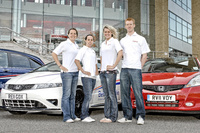 Cyclist Ed Clancy, gymnast Beth Tweddle, javelin thrower Goldie Sayers and swimmer Jazmin Carlin have joined with Honda (UK) to form the Power of Dreams Team to inspire others to follow their ambitions.
Ed Clancy - Cyclist
At the age of 25, Ed Clancy has already shattered two world records along with winning four World Championships, two European Championships and Gold in the 2008 Olympic Games.
Beth Tweddle - Gymnast
Beth is Britain's greatest ever gymnast. She is a three-times World Champion and six-times European Champion, whilst also winning titles at the Commonwealth and World Student Games.
Goldie Sayers - Javelin thrower
Goldie broke the British record at the 2008 Olympic Games where she finished 4th. She is eight-times National Champion and won Silver in the 2010 European Team Championships.
Jazmin Carlin - Swimmer
At only 20 years of age, Jazmin is one to watch. She has already won medals at the World and European Championships and was the first Welsh woman to win a Commonwealth Games medal in 36 years.
As part of the tie-up, Honda will follow the journey of each athlete, to showcase their talents and how they have come to achieve their dreams of representing the UK in the London 2012 Olympics.
Simon Gardiner, Marketing Communications Manager, says:
We want to get across how dreams can drive what we do and who we become, by telling a 'behind the scenes' story of the athletes. The Power of Dreams is something we live everyday at Honda and it's great that the team have come on board to help illustrate this message. They are all fantastic ambassadors for their country, their sport and for Honda so we're looking forward to seeing them take home the gold.
Ed Clancy, record breaking cyclist, says:
My dream has always been to represent Great Britain and become world number one cyclist. Through working with Honda (UK) and with each of the other athletes we want to motivate others to achieve their goals. It's taken a great deal of hard work and perseverance to get to where I am today, but I think the challenges we face are what makes us stronger.*
Honda (UK) is supporting the athletes by providing each with a car, to help with the travel to and from their competitions and to carry their sporting equipment. Between them they have the British-built Civic Ti, CR-V and Jazz and also a CR-Z.
Follow the team's journey; see what motivates each athlete, what they have sacrificed and their intense training schedules by visiting http://www.honda.co.uk/powerofdreamsteam.