Get Set for the Woking Swimathon 2011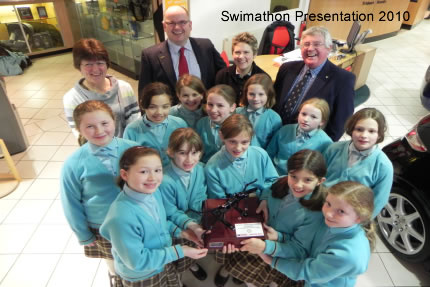 Preparation for the fourth annual Woking Swimathon is well underway and Trident Honda will sponsoring the event once again.
This charity event, organised by The Rotary Club of Woking, is taking place on Sunday 23rd October 2011 at Woking Pool in the Park from 9am - 6pm.
Everyone is invited to take part and previous teams have represented charities, families, friendship groups, churches, businesses and offices, shops, Scouts and Guides, Cubs and Brownies, swimming clubs, health clubs, schools and colleges. All money raised will be shared between the following charities:
The Mayor's Charity Appeal
Woking and Sam Beare Hospices
SERV (Surrey)
Freemantle's School
Let's Read
Home-Start Woking
The Tommy D Project
Woking Community First Responders
7th Woking Scout Group
Last year, over 300 adults and 100 children took part and raised in excess of £15,000.
Halstead Preparatory School, Woodham raised a staggering £883 in sponsorship and the picture on the right shows the team collecting their award for the school team that raised the most money.
Team Trident Honda also entered for the first time and swam 100 lengths and raised £421 - so this year, the challenge is to beat our previous efforts!
More information regarding the Woking Swimathon can be found at http://www.rotarywoking.co.uk.