25,000 Take to the Skies on the Honda Eye at Goodwood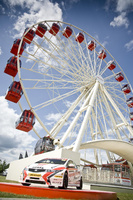 More than 25,000 people soaked in the fantastic sights from the top of the Honda Eye, the 40-metre high, 24 pod ferris wheel, experiencing Goodwood as they've never seen it before.
Queues formed every day for the free-of-charge attraction before it officially opened at 9am and it continued to pull in crowds until it took its last flight on Sunday evening.
Boosting Honda's interactive presence was the Racing Bug which gave would-be racing drivers, both young and old, the opportunity to get 'behind the wheel' of a 300mm long fully branded BTCC Civic replica on Honda's mini race track. Located in the Moving Motor Show area, the Bug was another crowd pleaser with over 2,000 people having a go across the weekend.
Joining the Racing Bug in the Moving Motor Show was the head-turning CR-Z MUGEN RR design concept. The CR-Z MUGEN RR was produced by M-Tec in Japan with many prototype parts, several of which are created in carbon fibre for light weight and additional strength.
Elsewhere, Honda (UK) and MUGEN Euro's own CR-Z MUGEN was a regular feature on the Hillclimb and took to the track twice a day. Other Honda activity on the Hillclimb included Honda Racing drivers Matt Neal and Gordon 'Flash' Shedden behind the wheel of the 2011 BTCC Civic and Honda TT Legends John McGuinness and Keith Amor riding the 2007 TT winning Replica Fireblade and 2011 TT Legends Fireblade.
Dave Hodgetts, Managing Director, Honda (UK), commented:
We wanted an innovative presence that gave attendees a whole new experience, one which made Honda stand out. The Honda Eye and the Racing Bug did this perfectly. They both gave guests an opportunity to get involved and enjoy with their friends and family. We aimed to give guests a truly memorable Honda experience - one with the wow factor - and I believe that this was achieved.