Mugen Develops Honda CR-Z Mugen RR Design Concept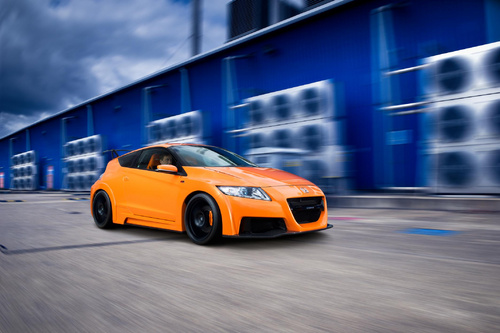 MUGEN of Japan has built a CR-Z MUGEN RR design concept to demonstrate MUGEN's capabilities in terms of function, style, performance and agility. The CR-Z MUGEN RR was produced by M-TEC in Japan for show purposes only and there are currently no plans for further production.
The CR-Z MUGEN RR has been created with many bespoke prototype parts, several of which are created in carbon fibre, including the bonnet, passenger doors and rear tailgate. Other features unique to the car include a full length carbon-fibre underbody, a twin central-exit exhaust, vented front bumpers and race-developed suspension. Orange 4-piston monobloc brake calipers and forged 18-inch alloy wheels both complement the vibrant Valencia Orange Pearl exterior paint work.
Inside the car, the seats are clad in MUGEN-branded colour-coded leather/Alcantara. The addition of a race-developed information screen has the ability to record chassis and engine data as well as housing a Satellite navigation and audio system. This high tech kit will monitor the car over two laps to 'learn' a circuit and then record lap data and vehicle tracking using GPS.
The design concept was unveiled for its world debut at the beginning of July in the Moving Motor Show area at Goodwood Festival of Speed and complements the high-performance CR-Z MUGEN, which was designed and built by MUGEN EURO based in the UK.