Cleaner and More Powerful Engine for 2012 Honda Civic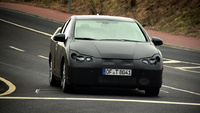 The new 2012 Honda Civic will feature a cleaner, more powerful and economical diesel engine to deliver lower running costs for owners.
Improvements to Honda's 2.2-litre i-DTEC engine, coupled with a low-drag body design, mean the new 2012 Civic emits only 110 g/km of CO2 - while producing a powerful 150 PS and 350 Nm of torque.
This new lower CO2 figure signals a drop of 29g/km over the outgoing model and will enable customers to benefit from free road tax for the first year (and only £20 per year from then on), as well as cheaper fuel bills. Meanwhile, company car drivers will be able to take advantage of BIK tax rates among the lowest for a small family car.
The improved engine also shows that customers do not need to sacrifice on power to achieve better economy - the 2.2 diesel delivers a 10 PS boost over the outgoing engine.
The second of five films on the development of the new Civic features Honda engineers discussing the i-DTEC engine and the Civic's low emission technology. The video can be viewed at http://www.honda.co.uk/newcivic.
The new Honda Civic that's more confident, clever and versatile makes its debut at the Frankfurt Motor Show in September.