New Civic Tops for All Round Safety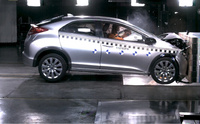 The most important area of focus throughout the development of the new 2012 Civic was safety - not just the occupants of the car but other road users too - such as pedestrians and cyclists.
Mitsuru Kariya, Civic Development Leader, explains:
Honda has a high tech crash test facility in Tochigi, Japan. There we were able to crash the new Civic into vehicles of different weights and sizes, and at different angles and speeds. We wanted to make sure that we are offering the best 'real world' safety for our customers.
One of the ways that this is achieved in the new Civic is through the Advanced Compatibility Engineering (ACE) body structure. This is a front-mounted polygonal frame that is designed to prevent the cabin becoming deformed by distributing forces away from the passenger compartment.
Collision avoidance
Honda's Collision Mitigation Braking System (CMBS) monitors the distance and closing rate between your vehicle and the car directly in front of it, warning the driver when a collision is likely and helping reduce impact when a collision becomes unavoidable. The technology automatically assists with heavy braking and tightens the seat belts to reduce loading on the driver during an accident.
Pedestrian detection
The new Civic also features sophisticated pedestrian protection features. Pedestrian protection features include windscreen wiper pivots designed to break away on impact and energy absorbing front wing mounts.
Development film
The last of five films on the development of the new Civic features Honda engineers discussing safety technology. The video can be viewed at https://www.youtube.com/HondaVideo.
The new 2012 Civic was unveiled at the Frankfurt Motor Show in September and order books at Honda dealerships are now open with cars arriving in dealerships during January.