Woking Hospice raffle winner collects his brand new Jazz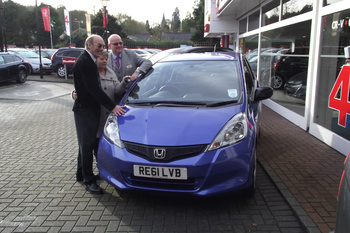 The lucky winner of the 2011 Woking and Sam Beare Hospices raffle collected his new Jazz from Trident Honda today!
Ray Newman gets the keys to a brand new Honda Jazz 1.2-litre S with air conditioning, worth £12,435.
A delighted Ray, from West Drayton, Middlesex, says:
I was totally lost for words when I found out the good news that I had won first prize, My cousin passed away at Woking Hospice so I know how dedicated the team is. I thank them and Trident Honda for this magnificent prize.
Richard Roberts, Managing Director of Trident Honda, was delighted to welcome Ray as a new customer:
The Honda Jazz is a fantastically versatile supermini and its reputation for outstanding reliability means it will give him many years of wonderful service. Everyone at Trident Honda is proud to be associated with an event which local people have again supported so generously. This year's raffle has raised more than £60,000.