Honda Invests £267m in Swindon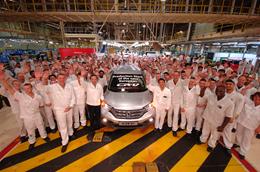 Honda says investment at its UK plant in Swindon has reached £267m amid plans to ramp up production. The money will support the introduction of its new Civic and CR-V car models and a new 1.6-litre diesel engine.
The site is expected to produce 183,000 cars this year, with output forecast to rise to 250,000 within three years. About 500 workers have been recruited this year in the firm's biggest single UK investment programme for a decade, raising the total workforce to 3,500.
Honda said Swindon remained the cornerstone of its European business. Honda's Swindon factory builds cars and engines for export to more than 60 countries in Europe, the Middle East, Africa and Australia.