The Woking Bikeathon is Back!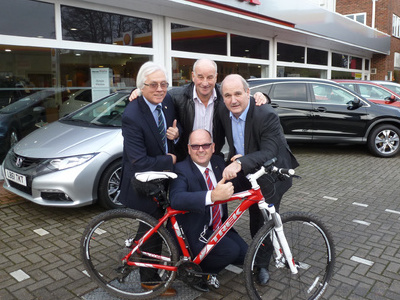 In 2013 the Woking Bikeathon is going to make a return to the town. The Bikeathon, which was last run in 2011 and had previously run for over 20 years in the town, previously exclusively on behalf of Leukaemia Research, is being resurrected in 2013 for local charities.
The Rotary Club of Woking will be masterminding the event, with Terry Smith, the clubs events chairman saying:
It is coming back locally and will be supporting local charities. We are bringing the money back into the local community.
A number of the team previously involved in running the event over the last two decades will be working with the team from Rotary, including Hugh Stafford-Smith and Richard Roberts, Managing Director of Trident Honda.
Money raised from the event will go to the Woking Hospice, White Lodge Centre, Leukaemia and Lymphoma Research, The Children's Society, Woking Community First Responders and other Rotary Club of Woking charities.
The ride will again start at the Bishop David Brown School in Sheerwater, following one of the previous routes cycled last in 2010. The long route, circa 28 miles, is running out through Rowtown, Lyne, Trumps Green, Longcross, Chobham, Horsell and back to Sheerwater. There will also be a shorter 14 mile route for those wanting a less challenging ride.
Richard Roberts, MD of Trident Honda, confirmed that he was delighted that Trident Honda would be one of the main sponsors supporting the relaunch of the event, given that he had been involved with the event for so many years. Richard said that he felt the event being brought back to supporting, predominantly local charities, would reinvigorate it, bringing the local community back into supporting the event, he hoped more locals than ever would get their bikes out and sign up for the event on May 12, 2013, helping make it the best ever Woking Bikeathon.
The event which is not a race, although some do get round faster than others, is very much a family day out and is a great opportunity for kids to join there parents in a fun day out raising money for the community, as well as getting a good work out! On the day some 80 volunteers will marshal the event so do keep the date free and come along and make the day the success it deserves to be.