Launch of the Woking & Sam Beare Hospice Raffle 2013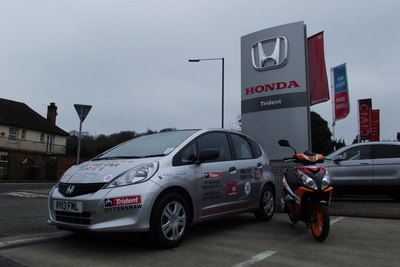 Trident Honda is delighted to announce that the Woking & Sam Beare Hospice Raffle starts again this Saturday; the launch will be in the Peacocks Centre in Woking, outside H&M, at 10.00am on Saturday 23rd March.
This year is a little different though. To help celebrate both Trident Honda's 50th Anniversary and the 20th Anniversary of the Hospice Car Raffle, Trident Honda have not only sponsored the first prize of the Honda Jazz 1.2S, but also a second prize of a Honda NCS50R scooter!
Trident Honda, who have sponsored the car raffle many times - from the launch in the 1990's with Minis - are delighted to once again support such a worthy cause.
It is hoped that the Honda scooter, a Honda NCS50R in the Honda Repsol racing colours, will encourage the younger1 audience to dig deep for their £1 to help support the hospices.
The scooter may currently be viewed in Trident Honda's Ottershaw showroom.
---
To ride a Scooter, learners MUST be 16 or over, hold a provisional licence and complete Compulsory Basic Training (CBT). ↩