Civic 1.6 i-DTEC Real World MPG Challenge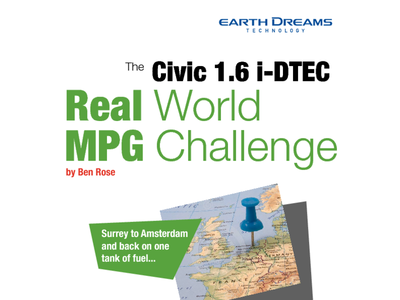 Earlier this year Honda (UK) invited a few of its Twitter followers, to make a video-based test drive review of the new Civic 1.6 i-DTEC. But no ordinary review - a challenge to find how far the new Civic Diesel might go on a single tank of diesel.
With an official combined fuel economy of 78.5 mpg, the 120 PS i-DTEC engined Civic and its 50 litre capacity fuel tank could theoretically cover a range of over 850 miles - but we all know the official figures set by industry standard simulated test cycles are rarely comparable to real life driving and speeds.
Real World MPG Challenge by Ben Rose
Earlier this year Honda (UK) invited a few of its twitter followers, including myself, to make a video based test drive review of the new Civic 1.6 i-DTEC. Not just any excuse for a day off from my day job as an IT Manager at a bank in the City of London, I've always had an avid interest in motoring and in recent times, a particular focus on fuel economy. So when Honda followed up and asked if I would be interested in taking part in a challenge to find how far the new Civic might go on a single tank of diesel, obviously I jumped at the chance.
With an official combined fuel economy of 78.5 mpg, the 120 PS i-DTEC engined Civic and its 50 litre capacity fuel tank could theoretically cover a range of over 850 miles - but we all know the official figures set by industry standard simulated test cycles are rarely comparable to real life driving and speeds.
After checking a map of Europe to see how far the car might get us, we settled on Amsterdam as the destination for the challenge. A 700 mile round trip along the high speed European A and E class roads would be a pretty useful fuel economy test for higher mileage drivers who aren't too shy to drive at those kinds of speeds. More frugal drivers are also perhaps able to regard these results as a worst case scenario.
Pulling out of the new Cobham Services on the M25, we noted that our predicted range was just 680 miles - 20 miles short of our expected journey distance. Despite perhaps not having enough fuel, we weren't put off from accelerating up to 70 mph to keep up with the general pace of traffic for the journey to the Eurotunnel terminal. Making good use of the excellent 6-speed manual gearbox, we took note of the clear dashboard indicator for when to change up to the next gear.
We noticed that, instead of making the car painfully slow like it does in some other cars, the large green Econ mode button on the dash appears to just control the point at which it tells you to change gear. With no obvious acceleration side-effects, we decided to leave the mode on for the whole journey - safe in the knowledge that there was plenty of power available under our right foot when we needed it for overtaking or similar manoeuvres.
Accompanied by tunes on the high quality DAB radio and only slowing down for a 50mph roadworks section near Clackett Lane services, we noticed just how quiet this car is. Not only is this apparently the lightest diesel engine in the world, it's also one of the quietest - I've driven petrol cars currently on sale that are noisier than this.
76.3 miles later we arrived at the Eurotunnel and found our predicted range had gone up, not down, to 693 miles and we'd covered this first hour or so of our journey with an average fuel economy of 75.1 mpg.
Driving off the train in Calais, and somewhat impressed with how the clock automatically change the hour to European time, we proceeded at over 80mph (130km/h) towards Belgium and onwards to Ghent for some lunch. We got a bit lost here, driving through seemingly endless junctions looking for a sandwich shop, watching as the fuel economy didn't drop as much around town as we might expect. We finally parked up 173.6 miles from home with a claimed 71.5 mpg.
Heading towards Amsterdam on roads with limits up to 75mph, we kept up with the flow of traffic and were not crawling in lane one with the trucks. We arrived in Amsterdam after a journey of just 312.7 miles - clearly our plan included the tunnel distance we had spent on the back of a train. Either way, 69.9mpg at true motorway speeds was more than impressive and, having only used about £30 of diesel, we still had more than half a tank of fuel left to get home.
After a short overnight trip, we left Amsterdam the next morning and, due to the upcoming Queen's Parade, there were a number of road closures and similar obstacles leading us to pull various U-Turns around the city as we headed up to Waterland, North of Amsterdam, to take some photos. The Civic came into its own here, with tight turning circles, rear view camera and parking sensors getting us out of a few tight spots when we found ourselves stopped on rails with a tram hurtling towards us.
Even driving along various heavily cobbled streets, the Civic felt comfortable and there was no juddering through the steering wheel. The ability of this Honda to handle potholes and changeable road surfaces without a single crash of the suspension, even on large 16" alloys, is amazing and worthy of luxury saloon cars worth two or three times the price. Despite all these town centre manoeuvres, our economy somehow went up again to give us a figure of 71.1mpg as we broke the 400 mile marker.
Another diversion on the way home, this time through Antwerp ring road on the hunt for a supermarket to allow us to test the rather excellent 1210 litres of boot space with Belgian beer. We ended up approaching Calais at 80mph still trying to find somewhere to buy duty free on a Sunday evening. Just as we drove out of the third car park in a row belonging to a closed supermarket, the car let out a bong and prompted us to refuel - light on the fuel gauge clearly lit. Still in France and running out of diesel, we gave up on our shopping and headed for the train home. At this point we had 111 miles to go, less the 30 or so miles we would cover in the tunnel and our average was down to 69.5 mpg after 568.9 miles travelled.
Back on UK soil, listening to the Radio 1 UK Chart Show on DAB, we drove past Maidstone on the M20 with 49 miles to go and only 34 miles range left in the fuel tank - but still we pushed on at the 70mph speed limit until we hit the speed camera limited 50mph roadworks section on the M25 for the second time.
Passing Reigate, J8 of M25, our predicted range hit zero still with many miles to go. With the reassurance of a 5 litre can of diesel in the boot, we didn't even slow down and pushed on until, with a sigh of relief, we pulled in to the petrol station back at Cobham services to fill up. Surrey to Amsterdam and back on one 50 litre tank of fuel, 645.0 miles - 70.5 mpg average.
But we all know that some trip computers have rather questionable accuracy, so what did the Civic 1.6 i-DTEC REALLY achieve?
We filled up to the brim a second time so we could measure the exact amount of fuel used. To our surprise we could only get 44.88 litres into the 50 litre tank which, based on the distance travelled, gave us a rather respectable 65.6 mpg. Two adults with luggage, driving at speeds in excess of 70 miles per hour for a large proportion of a 645 mile journey and we achieved a genuine economy figure that many market leading hybrid cars can only dream of unless they drive at 56mph between the HGVs in lane one. A quick glance of the fuel receipt confirms that, even at a motorway service station price of 149.9p/litre, we managed to get to Amsterdam and back on just £67.28 of fuel
Of course with more than 5 litres of fuel left in the tank and the 15+ miles per litre we had achieved on our journey, we could have gone another half a lap of the M25 before we'd run dry - giving us an achievable range in excess of 700 miles... if you're prepared to sit with the refuel light lit for the last 100 miles, of course!
Testing done and with a fresh tank of diesel, I drove my journey companion through Sunday evening traffic back to his home in Finsbury Park. We reset the trip and decided to drive to save time, not fuel, ignoring the gear change indicators and revving the car up into its redline. It's at this point you can really feel the 300Nm of torque as the turbo kicks in max output at a perfect 2000rpm, the eco tyres will even let out a little chirp on the front wheels if you engage second gear at the right moment on the way to 62mph in 10.5 seconds.
With a firm grip on the Civic's lovely thick rimmed steering wheel, it grips roundabouts and tight turns in an extremely predictable way, with no annoying torque steer at all, and just a hint of understeer from the front-wheel drive.
A 70 mile round trip to Finsbury Park later and I'd still managed a trip computer average economy in excess of 50 mpg despite having just as much fun as I would have in a hot hatch that burned twice as much fuel. The 1.6 i-DTEC engine allows you to have a great amount of fun but, as soon as you catch up with the traffic and are forced to slow down, the average economy just keeps ticking back up towards the 70s.
With CO2 emissions of 94g/km the Civic 1.6 i-DTEC is currently in VED Band A, so exempt from car tax, and has a rather attractive BIK tax liability from just £42 for taxpayers in the 20% bracket - cheaper than the lower powered 1.4 i-VTEC petrol model. On top of that, if you are one of the 1 in 6 people who travel inside the M25, this car is currently totally free from the London Congestion Charge until 24th June 2016 a saving of around £8,000 if you enter the zone each weekday.