The most frugal Honda CR-V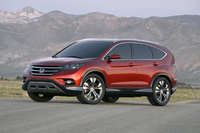 Honda has added the 1.6-litre diesel engine from the Civic hatchback to the CR-V range, and in doing so, it has created the most economical and lowest-emitting version of its family-friendly SUV.
Thus far, the most frugal CR-V has been the 2.2-litre diesel-engined model, which averages just over 50mpg and emits 149g/km, but the 1.6-litre model has that well beaten: it averages 62.8mpg and emits just 119g/km of CO2. That makes it one of the most frugal SUVs on sale today.