MPG Marathon for the Civic 1.6 Diesel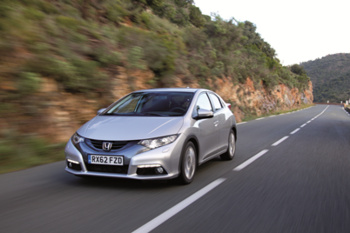 A rigorous round of real-world testing dubbed the 'MPG Marathon' has once again underlined the impressive fuel-efficiency of the new Honda Civic 1.6 i-DTEC.
In the test of 23 cars driven by independent journalists and company car drivers on UK roads, the Civic took third place for overall mpg, behind the Ford Fiesta ECOnetic and Renault Clio Dynamique - both much smaller cars than the Honda.
Over a 367 mile drive the Civic recorded an excellent overall mpg of 84.87mpg, just 4mpg behind the winner. It exceeded its official combined figure by some 8.12 per cent, placing it third place overall in percentage improvement on quoted mpg figures. The Civic also recorded the third lowest CO2 emissions of the models on test, with just 94g/km.