Honda Walking Assist device in large-scale trials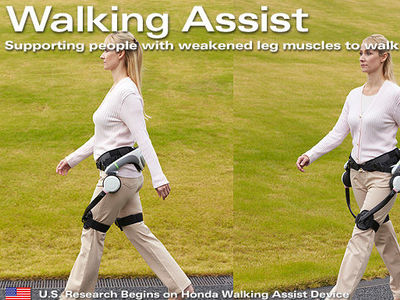 Honda has announced that a clinical research study of its Walking Assist Device has begun at the Rehabilitation Institute of Chicago (RIC). The Honda Walking Assist Device is worn outside of clothing and consists of a stylish frame and battery-powered compact motors designed to assist people with reduced walking ability due to injury, illness or other causes.
Honda began research and development of the Walking Assist Device in 1999. As with ASIMO, Honda's humanoid robot, the Walking Assist Device adopts cooperative control technology that was developed based on Honda's cumulative study of human walking. The control computer activates motors based on information obtained from hip angle sensors while walking to improve the symmetry of the timing of each leg lifting from the ground and extending forward and backward, and to promote a longer stride for easier walking. The compact design of the device was achieved through the adoption of thin motors and a control system developed by Honda, as well as a simple design with adjustable belts that enables the device to be worn by people of varied body size.