Car Raffle Winners 2013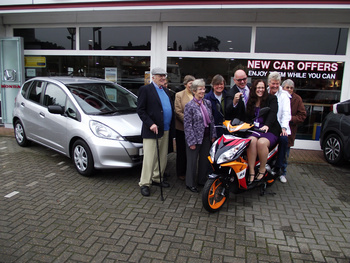 It's going to be a Happy Christmas for Mrs Anne McShane from Shepperton who scooped the top prize, a Honda Jazz, in Woking & Sam Beare Hospices Car Raffle. The second prize, a brand new Honda scooter, was won by Horsell resident Mrs Ann Hefernan. Both vehicles were sponsored by local car retailer Trident Honda, with sites in Ottershaw and Weybridge, and Lottery Manager Kelly Newell went along with some of her dedicated car raffle volunteers to accept the keys on behalf of the lucky winners.
The £1 tickets in aid of Woking & Sam Beare Hospices have been on sale since March, and on Sunday the 27th October 2013, Jonathan Lord MP, drew the winning ticket at the Hospices Christmas Gift & Craft Fair in the Woking Leisure Centre. Mrs McShane had bought hers just the day before in the Peacocks Centre, whilst Mrs Hefernan, a long term Hospice support, had secured hers earlier in the year via post.
This year's draw has raised almost £70,000 making it one of the Hospices biggest fundraising initiatives.
Richard Roberts, Managing Director of Trident Honda Ottershaw said:
I'm always in awe of the team who sell the tickets and the amount that they sell to raise money for the Hospices, and it's wonderful to see so many of them here today. We're delighted as ever to sponsor the event, and it's always a pleasure to support such a wonderful local charity.