Honda Civic Tourer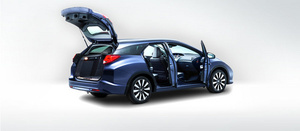 The Civic Tourer is a car that everyone can get excited about. It has the best of both worlds, combining sporty, sleek looks with the practicality of spaciousness.
The Civic Tourer makes a practical but sporty design statement. The aerodynamic body creates a clean, dynamic look and the low and wide stance gives it a sporty aspect. All of which are complemented perfectly by a sleek cabin style.
The concept car debuted at the 2013 Geneva Motor Show and is expected in dealerships from early 2014 with the hatchback model being built in Honda's facility in Swindon.