Win a Honda Car for just £1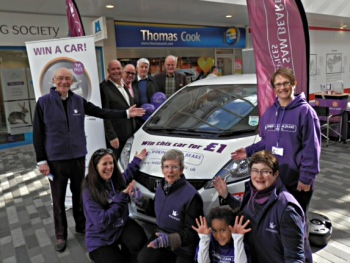 Purple was the colour in Mercia Walk on Saturday at the launch of the Woking & Sam Beare Hospices car raffle. Banners, pop ups, balloons and purple sweatshirts making the first prize of a Honda Jazz 1.2s car look even more stunning.
The car raffle remains a solid fundraiser for the Hospices raising thousands of pounds each year and this year we are delighted that Trident Honda are the main sponsors. With a £1 stake you now have the opportunity to win a Honda Jazz 1.2S car, the second prize of a family membership at David Lloyd was donated by the Health Club in Woking.
Richard Roberts, Managing Director of Trident Honda, says:
At Trident Honda we are delighted to support the Hospices in this way, due to the fantastic role they play in supporting our communities. The Woking & Sam Beare Hospices also tie in very well with our dealerships, with our sites located in Weybridge and Ottershaw.
The car raffle team will be out and about the area selling tickets until the draw takes place at the end of October.
Kelly Newell, Car Raffle Manager, explains:
Last year the car raffle raised over £70,000 which can help pay for 200 days of in-patient care

This amazing amount is due to the volunteer team, who are out selling tickets every weekend. However, due to the retirement of a few key volunteers last year, we are very short of people to help and desperately need others to come forward or we may have to cancel venues. It's great fun in the warmer weather and you meet so many interesting people, so please get in touch and get involved.
Tickets cost just £1 each, buy them when you are out to support your local Hospices, or call fundraising on 01483 881752. Tickets are also available at Trident Honda's sites in Guildford Road, Ottershaw and Queens Road, Weybridge.