New Civic Type R film brings to life Honda's 'other side'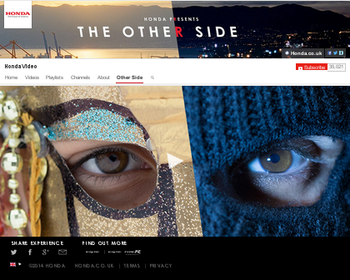 A new interactive online film from Honda was launched today, bringing to life the brand's 'other side' ahead of the hotly-anticipated launch of the new Civic Type R in 2015.
Honda is renowned for its reputation of engineering excellence, technology and reliability. But it's the brand's 'other side', born from a racing heritage and thirst for innovation, which this campaign heroes.
During 2015 Honda will launch the all-new Civic Type R - promising to be the most extreme and high-performing model to wear the famous 'Red H' badge - perfectly embodying this other side of the marque. As the film asserts, Type R is the wild child alter-ego of the Civic hatchback that customers know and trust.
The Other Side aims to bring to life these two sides of Honda by putting fans at the heart of a high-adrenaline dual narrative. The story unfolds in two parallel tales, one set during the day and the other at night. The daytime story sees a father picking his daughter up from school in his white Civic and driving her to a surprise party. By contrast the night-time narrative shows the father's other side - an undercover cop driving a crew of art thieves to a police sting, in a head-turning red Type R. While very different in tone, the two stories mirror each other perfectly in their composition.
The Other Side opens with the Civic in the daytime, with titles prompting interaction as they roll. From here the viewer can switch between the Civic and the Type R narrative, simply by pressing the 'R' button on their keyboard. The effect is dramatic and heart-racing, a big enjoyable gear shift between stories echoing the sensation of pressing the new Type R's 'R' button to activate 'Race Mode'.
A press of the 'R' button puts the director's cut into the viewers' hands, allowing them to switch in real time between two mirrored story lines. Through sound design and seamlessly matched scenes, you can't help but feel the power of Honda's other side.
See the interactive experience here:
The Other Side was shot by acclaimed director Daniel Wolfe, the creative force behind award-winning commercials, music videos and the recent Cannes Film Festival highlight 'Catch Me Daddy'. Music was scored by Bobby Krlic of The Haxan Cloak.