Rovers Re-united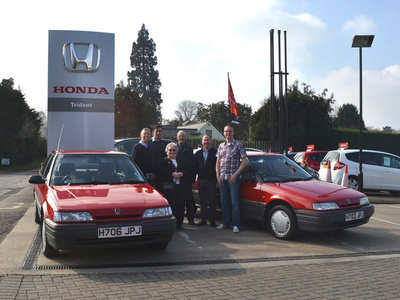 Twenty five years after they left the showroom, two near identical Rover 200s returned to their supplying dealer, Trident Honda in Ottershaw. The family run, former Rover dealer welcomed them back to celebrate their 25th birthdays.
Jeremy Howson, the third owner of '706', a Rover 214SLi wanted to mark the anniversary of his car and contacted Trident Honda who were only too pleased to welcome the car back. Jeremy arranged for both previous owners to be at the event. Mr Jim Turner bought the car new from Trident Honda on 14th March 1991 and lovingly maintained it for the next 22 years, before giving up driving and selling the car to Anthony Symes of Portishead, Bristol. Jeremy Howson bought the car from Mr Symes in 2014 and the car has since been displayed at classic car shows including the Classic Motor Show at the NEC in Birmingham. The car attended the Rover 200 and 400 Owners Club 25th Anniversary event in 2014 and won an award for being the Best Car in Original Condition.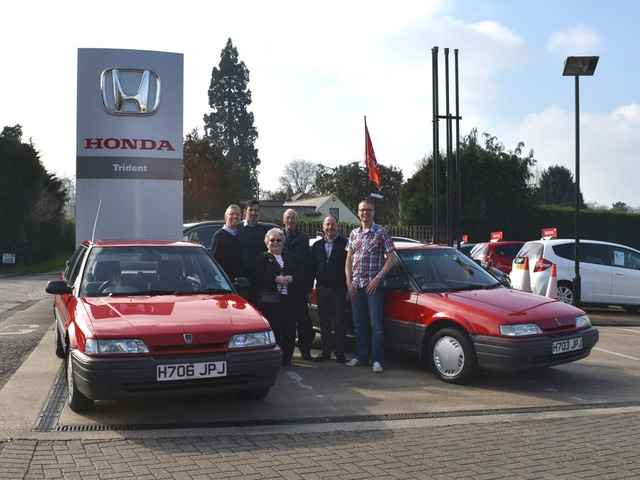 From left to right: Steve Henderson, Jeremy Howson,//Ann Masters, Jim Turner, Michael Franklin, Anthony Symes
It was after the visit to Trident Honda had been arranged that Michael Franklin the owner of '703' a near identical 216GSi contacted the owners club having just bought his car from a friend, Mrs Ann Masters who had owned her car for 23 years, and now runs a Honda Jazz, again from Trident Honda. Jeremy said:
I was totally shocked when I saw the photo of Michael's car, at first I thought it was my own.
'703' was three numbers away from his car and in the same colour combination. The two cars were registered just three days apart. It appeared to be fate that the second car should turn up when it did and it seemed very appropriate that both cars should be brought back together with their respective owners, past and present for the event.
The combined mileage of the two cars is a mere 77,000 miles, an average of 1,500 miles a year for each car. The sun shone on Sunday and both cars look resplendent in their bright red paintwork. Steve Henderson, Commercial Director of Trident Honda welcomed the cars and their owners back to the dealership with bottles of Champagne to help them celebrate the anniversary!
For both cars to have survived in this condition for so long is a tribute to both their owners and to the original design and engineering of the cars. The Rover 200 was designed by Rover in collaboration with Honda and went on to be the most successful Rover of that era.