Trident Honda Sponsors Woking & Sam Beare Hospices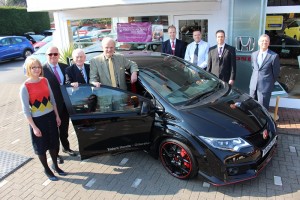 Trident Honda has officially launched a new three year partnership with Woking & Sam Beare Hospices, which will see the business support the charity through sponsoring key annual events in the Hospices' calendar. A proud family business with local roots, Trident Honda is a long-time supporter of the Hospices, having been involved since the 1990s.
Managing Director, Richard Roberts and the team from the dealership welcomed Woking & Sam Beare Hospices' Director of Fundraising, Louise Morris, and Hospice founder, Rhod Lofting, to the Company's offices on Thursday 17th March to discuss how they could support the Hospices and how both could benefit from the partnership.
Mr Roberts said:
The Woking and Sam Beare Hospices are such an important part of our community, and as a business trading in and around Woking and Weybridge for 53 years, we see the vital part it plays in our community. The new build programme is essential if the Hospices are to deliver the long term care we all need, so I feel that businesses in the community must step up and help to fund the Hospices to ensure the care is there for all of us when we need it. Sadly we have personally seen the support, care and respect it brings to people at a time when most needed and we firmly believe it is an essential part of our community that must be paid for!
Director of Fundraising, Louise Morris said:
We are excited to embark on this new phase of partnering with Trident Honda, who has now supported the Hospices for twenty years. The support of local businesses like Trident Honda is invaluable. It's only with these kind of partnerships that we can continue to give our exceptional care to patients and their families across Surrey, in people's homes as well as in our Hospice buildings. Trident Honda's new partnership with the charity comes at a crucial time, as we have embarked upon our New Build Appeal to raise £3.4m to build new, modern homes for our hospice care, whilst still delivering care 24/7 to our patients free of charge, at a cost of over £8 million each year. A commitment like Trident Honda's enables the charity to plan ahead for the future and offer the very best care for years to come.
Find out more about how your company could support the Hospices.