Dragon Boat Fun Day Launch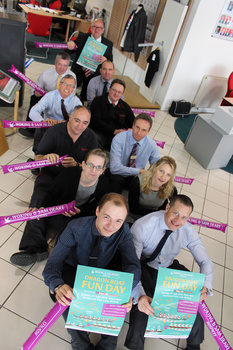 Date: 07/04/2016
Woking & Sam Beare Hospices have officially launched their Dragon Boat Fun Day, sponsored by Trident Honda, taking place on Sunday 3rd July 2016 at Goldsworth Park Lake. As always, teams will be paddling against each other and the clock to raise vital funds for the Hospices. New for this year alongside the Dragon Boat racing, there's even more going on with fun and entertainment for all the family.
Having recently launched a new three year partnership with the Hospices and as the headline sponsor for 2016, Trident Honda have entered a group of 14 staff who will be competing in the event this summer.
Richard Roberts, Managing Director at Trident Honda said:
Trident Honda are delighted to continue to support the Hospices, when we asked the team if they would like to take part they jumped at the chance! On the day we will have at least 14 on board, there is a threat that I might have to be in the boat, and knowing the team we will be doing everything we can to be closer to the front of the fleet than the back!
The Hospices' Events Fundraising Manager, Danielle Le Cuirot, is delighted to be returning to Goldsworth Park Lake with the event.
We've had teams sign up quicker than ever for this year's event with 12 groups already registered, so anyone thinking of taking part should get their forms in soon! Whether you want to take part with colleagues or just get a group of friends together and have some fun, it's a great team building opportunity and way to support a local charity at the same time.

New for this year is the 'fun day' element, there will be even more going on including face painting, games, a BBQ, bouncy castle, ice cream, Pimm's tent and lots more. It'll be a great day out for all the family and fingers crossed the weather will be with us!
Team places in this popular event are limited and allocated on a first-come, first-served basis. The minimum age to take part is 12 and anyone under 18 must be accompanied by an adult. Teams can be made up of 12-20 people and each team will have their own area on the bank of the lake, all equipment and training will be provided on the day.
The Dragon Boat Fun Day will be held in memory of Hospice Fundraiser Kris Cook who tragically suffered a cardiac arrest after cycling 46 miles whilst taking part in the Prudential Ride 100 in 2014. Kris grew up close to the lake where he pursued his love of water sports so the Dragon Boat event is the perfect way to remember him.
For further details and to register please contact the Events Team on 01483 881752 or visit: