Woking & Sam Beare Hospice Dragon Boat Race 2016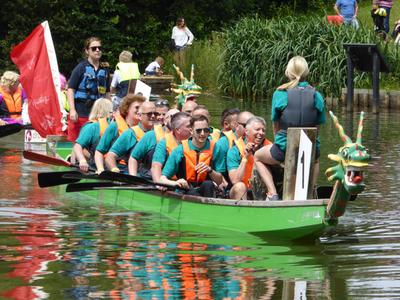 Date: 04/07/2016
A team of 15 from Trident Honda entered a boat in this year's Woking & Sam Beare Hospice's Dragon Boat Race on Sunday 3rd July. Trident Honda sponsors the event, as part of our Gold Sponsors' Package, so we felt it only right that we put in a team to compete at the event!
Trident Honda Otters perform brilliantly! -- Managing Director, Richard Roberts.
None of the team had ever done Dragon Boat racing before, so we entered into it not knowing quite what to expect! Well, cutting to the chase, we didn't win, but were very proud of putting in a respectable first time performance - only 9 seconds behind the winning team, who happened to be a rowing club! To be fair that put us in 8th place overall, out of the 12 teams entered, which just shows how competitive and close the day's action was. All of the team have already said they are up for improving their performance next year, so we will be back to see if we can knock some of that 9 second gap off next year!
The weather was kind to us and the 11 other teams taking part. The banks of Goldsworth Park Lake were full of supporters and the event was a thoroughly enjoyable way of spending the day; having both fun, as well as the Trident Honda Otters raising over £1,300 for the hospice!
Congratulations to all the teams that took part and we hope to meet you on the water again next year, any new teams wanting to enter contact the team at the Woking & Sam Beare Hospice for more details on the 2017 event.
For those who sponsored us, thank you. For those who would still like to, please visit our Just Giving page - it's never too late to support the Hospices!