A320 Guildford Road Closure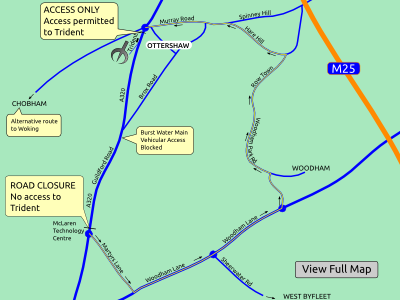 Affinity Water has experienced a catastrophic failure of an existing 21" trunk main supply pipe on the A320 Guildford Road between Woking and Ottershaw.
This failure has adversely affected the road structure for a significant area to the point of being unsafe to traffic.
Affinity Water says that it is now essential to carry out remedial works to restore the integrity of the highway in the area without undue delay. This involves excavating the road down to a solid foundation.
To this end Affinity Water has closed the road, just south of the junction with Brox Road, for a period of up to three weeks.
Diversions
A diversion is now in place, suitable for all vehicle types via Woodham Lane, New Haw Road, Addlestone High Street, Chertsey Road, St Peters Way and back to Guildford Road again.
As an alternative for our customers, we would also suggest the alternative and unofficial diversion through Row Town (see map below) or through Chobham Village.