2015 Honda CR-V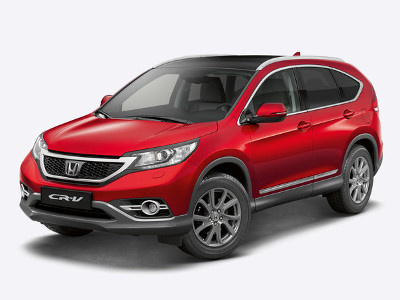 It's amazing how many innovative ideas have been packed into one stylish and spacious car. The new CR-V shares your spirit for adventure and gives you the freedom and flexibility to explore.
This versatile, two or four-wheel drive SUV marries exciting performance with the comforts of a luxury car. The perks just keep on coming.
Relax behind the wheel
This relaxed ambience makes it a pleasure to travel in for driver and passengers alike. Up front you'll enjoy the elevated seating position, with generous legroom and high quality materials throughout the car.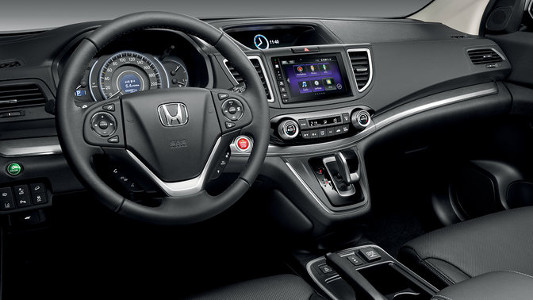 The intelligent-Multi Information Display (i-MID) screen keeps you right up with the play, wherever your journey takes you. It's effortless to use, with controls located on the steering wheel. This, together with the new Honda CONNECT touchscreen entertainment system, puts you in total control.
Acres of space
Room for even more.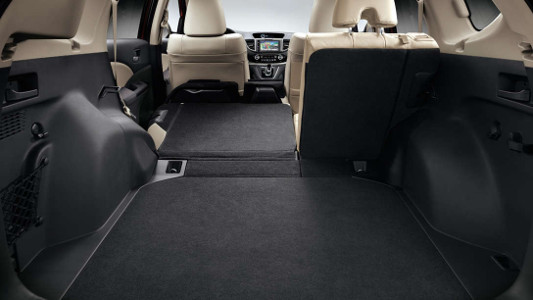 Creating more space is just one motion away, as our fold-flat seats drop smoothly away with one pull of a convenient lever. And with some optional grades, the addition of a tailgate that opens and closes automatically means having your arms full with the daily shop is no longer a problem. We've also ensured a generous boot capacity to give you enough room to store three big suitcases.
Stand out design
Honda engineers have put some serious thought into redesigning the exterior of the CR-V.

We've reshaped the grille, re-sculpted and integrated the headlights, and added smart new alloys. The car's fluid lines have been carefully reworked to create a sleek, dynamic profile that channels airflow more efficiently for better fuel economy.
You'll notice some nice new touches like the chrome garnish and rear skid plate that give the CR-V an extra dash of street style. And the curved edges of the door mirrors harmonise with the overall design, as well as reducing blind spots around the car.
Make yourselves comfy
Your passengers won't want the ride to end.
Luxurious rear seats - complete with a reclining backrest and curved door linings - create a roomier feel. Premium upholstery and auto climate controls the temperature for the front and back so that everyone feels even more looked after.
Power lumbar support in the driver and passenger seats can be adjusted for overall comfort as you go along, while the driver seat's electronic memory records two programmable settings.
A beautiful sense of closure
One touch tailgate
On the EX Grade, the CR-V's innovative powered tailgate makes life a whole lot easier. A single press of a button on the key fob or from the interior is all it takes to get instant access to the CR-V's class leading space. Another push of the button and the door smoothly and securely closes down again - perfect when you've got your hands full.
Perfect parking
Think a car this size is difficult to park? Think again. A rear camera helps you see just what's happening at the back, which is great for easing into those tight parking spots. And the passenger wing mirror tilts slightly when you reverse, giving you a better kerb-side view.
At the rear, the LED combination lamps have been restyled to give the CR-V a more fluid, three-dimensional appearance.
Drive smarter
The CR-V can tackle some of the trickiest road conditions.
We've thought carefully about how you use your 4WD. Our innovative 4WD system boasts better fuel economy as it only fully engages when wheel speed sensors detect loss of traction. That way you get maximum grip when you need it, without wasting unnecessary fuel when you don't.
Optimum traction, stability and manoeuvrability are built into the whole CR-V range. That's because they feature as standard in our innovative Vehicle Stability Assist system (VSA), which includes several advanced driving systems to make the road that little bit safer.
Power that doesn't cost the earth
Our 1.6 i-DTEC engine is not only more powerful, it's more efficient - and features our latest Earth Dreams technology.
The 1.6 i-DTEC engine is available on the four wheel drive CR-V, with 160PS and 350/Nm of torque and CO2 as low as 129g/km for the manual transmission and 134g/km for the automatic transmission. That's more power and torque for you when you need it - without compromising on economy.
Our aim is to celebrate the joy of driving while protecting the planet. We call it Earth Dreams. Combining optimum economy with a dynamic driving experience, it really is the engine of the future.
What drives you?
The Honda CR-V is available in two wheel drive or four wheel drive:
2WD
Thanks to some clever fuel-saving technologies, the two-wheel drive version of the CR-V delivers 300/Nm of torque and CO2 emissions of just 119g/km1. It's available with a six-speed manual transmission.
4WD
If you're a driver who chalks up plenty of longer journeys, look to the i-DTEC diesel engine for greater cruising economy. The 4WD's commanding grip comes in either 6-speed manual or automatic options.
The right balance of power
Power plus economy equals perfect performance.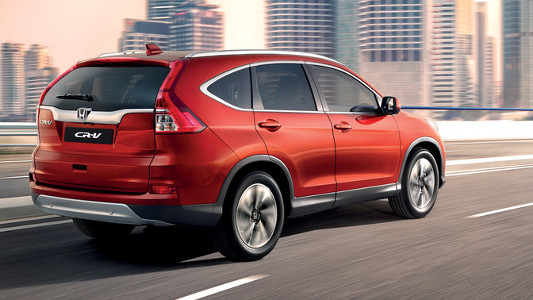 New 9-speed transmission
We've also introduced the choice of a new 9-speed automatic transmission for our advanced 1.6-litre diesel. Nine gears mean the right ratio is always available; making acceleration and deceleration smoother, maximising engine responsiveness and economy and reducing emissions.
Real world efficiency
Our 1.6 i-DTEC diesel engines give you a finely tuned balance of performance and efficiency. Available with 120PS on the 2WD version and 160PS when coupled with 4WD, they offer a lighter feel and more agile drive than other diesels, delivering 350/Nm of torque and CO2 emissions as low as 115g/km[1].
The 155PS 2.0 i-VTEC petrol engine features Variable Timing and Lift Electronic Control for optimised output at high engine rpm, and fuel efficiency at lower rpm. It's available as a 5-speed automatic with 4WD, or 6-speed manual transmission in a choice of 2WD or 4WD powertrains.
See your savings
Eco Assist helps you drive more efficiently.
The Econ button modifies the CR-V's system to offer excellent fuel economy - and some of the lowest CO2 emissions you'll find (starting from just 119g/km[1]). The CR-V's dashboard also shows you when you're driving economically - changing from blue to green - so over time you'll learn how to drive in more fuel-efficient way - and save at the pumps.
Honda CONNECT
The CR-V features our new Honda CONNECT technology. It's a central touchscreen that puts all the things you love in life, like your music and your friends, right at your fingertips.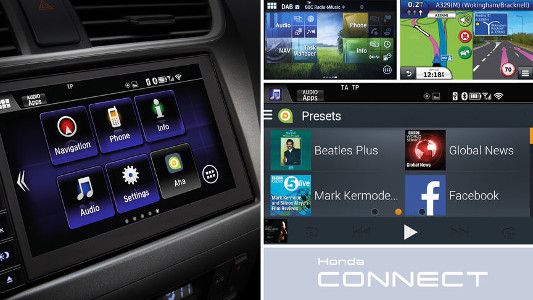 You can personalise the Honda CONNECT 7" touchscreen with your favourite photos. It gives you easy access to your mobile phone contacts, and you can even set up voice tagging.
On-board navigation is provided by Garmin™; which uses a simple icon menu to give you maps, real time traffic information and speed limit warnings.
The intuitive touchscreen gives you access to all your mobile phone functionality, via Bluetooth™. You've also got WiFi, USB and HDMI™ connections to give you internet and music for your journeys.
The AHA app gives you access to a host of digital radio stations and your favourite social media at the touch of a button.
The safest CR-V yet
Beyond the stylish design there's complex safety engineering at work in the CR-V, which has earned it its first Euro NCAP five-star rating.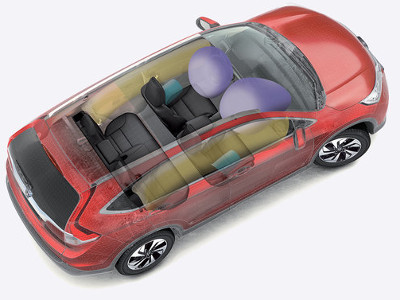 Smart protection
A whiplash mitigation system absorbs some of the impact to occupants during a collision, and helps to minimise the severity of whiplash injury.
Intelligent airbags
The front airbags use a two-stage inflater allowing airbag deployment to vary according to the severity of impact. Side curtain airbags protect the driver and passengers in the case of side-on collisions.
Motion Adaptive Electric Power Steering (MA-EPS)
A system that detects instability in slippery conditions both during cornering and under braking, and automatically prompts the driver to steer in the correct direction.
The Emergency Stop System (ESS)
This automatically activates the brake and hazard warning lights when it detects a stopping emergency, warning vehicles following that the car is braking abruptly.
Keeping Pedestrians safe too
The construction of the front of the new CR-V is designed to help absorb energy in the event of a collision with a pedestrian.
Advanced Driver Assistance option pack
The most important thing about a Honda? The people inside it. And our latest CR-V has taken your safety to even more advanced standards.
Features include City-Brake Active System, standard in Comfort grade, which monitors the traffic in front of your car and warns of a forward collision, giving you time to take action. Then there's our Lane Departure Warning alarm, which tells you if you are straying from your lane. And keeping you safer still is the clever Forward Collision Warning that monitors the area around your car to help you avoid collisions.
Honda SENSING option pack
The Honda SENSING pack includes all the safety features of the Advanced Driver Assistance System Pack; along with Collision Mitigation Braking System, intelligent-Adaptive Cruise Control and our Lane Keeping Assist System.
Honda SENSING can help you sense things you might miss when you're driving - not only vehicles, but pedestrians as well. It helps you avoid an accident by giving you visual and audible warnings, and if necessary, applying automatic braking.
Further information
For more information, or to arrange a test drive, please call our Sales Team on 01932 874411 or Contact Us On-line.
---
Fuel economy figures are sourced from official EU-regulated laboratory test results, these are provided for comparison purposes and may not reflect real-life driving experience. ↩