Dragon Boat Race and fun day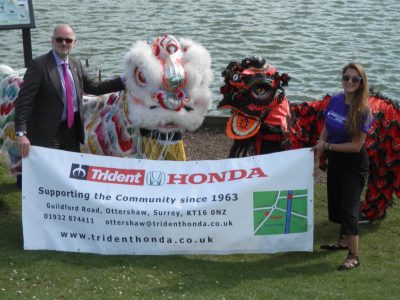 Date: 08/05/2017
Gather your team for our exciting annual Dragon Boat Race and fun day at Woking's Goldsworth Park Lake on Sunday 25 June, sponsored by Trident Honda. Oars at the ready!
Teams of 12-20 people can take the plunge to race across the lake in special boats, competing against the clock and each other to win a place in the final race of the day.
It's a great event for all the family, as anyone aged 12 and above can race (under 18s must have an adult in the team), and no experience is required, just lots of energy like our Chinese lions dancing in our launch film below (with thanks to the Chinese Association of Woking).
If you are looking for a team-building challenge for your colleagues or club, this is the perfect event for you too!
If you are not feeling quite so energetic then we have lots of other activities for you to enjoy on the lake side, including a bouncy castle, ice cream, BBQ, face painting, tombola, plant tent, games, stalls and much more! You may even like to visit our Pimms tent and toast the rowers' hard work from the banks of the lake or indulge in a well-deserved Pimms after rowing yourself.
Dragon Boating is a water sport which has its roots dating back 2000 years throughout southern China. Whilst 'competition' has taken place annually for more than 20 centuries, as part of religious ceremonies and folk customs, dragon boat racing has emerged in modern times as an international sport, beginning in Hong Kong in 1976.
Our Dragon Boat event will once again be held in memory of keen hospice supporter Kris Cook, who grew up close to the lake where he pursued his love of water sports.
Thank you to Trident Honda, who are our Dragon Boat event sponsors as part of their commitment made in 2016 to be a major sponsor for the charity over three years, after 21 years' ongoing support for our hospices. (Managing Director Richard Roberts is featured in our image with some Chinese lions and our Events Co-ordinator Danni Pulido-Lopero.)
Enter a team
Why not [enter a team][Enter]? Registration is £25 per person. Boats and life jackets are supplied, you just need to bring your competitive spirit for a fun race day experience!
Event details
| Event | Details |
| --- | --- |
| Date | Sunday 25 June |
| Location | Goldsworth Park Lake, Woking |
| Registration | Team registration 9.00am to 9.30am |
| First race | 10.00am |
| Awards ceremony | 4.00pm |
| Event finish | 4.30pm |
Sponsor the Trident Honda Otters team
Please consider sponsoring the Trident Honda Otters, in support of the Woking & Sam Beare Hospices.
Find out about other WSB Hospices events
Find out about other challenge events.