The Midnight Walk was a sea of flashing bunny ears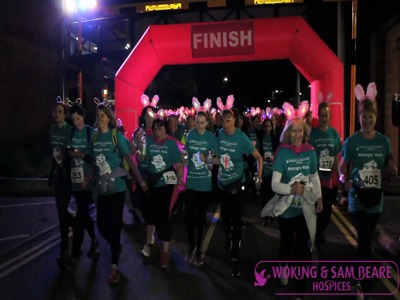 Sponsored by Trident Honda and supported by Woking Leisure Centre, Woking and Sam Beare Hospices delivered their 10th annual Midnight Walk with over 700 ladies of all generations. Each donning their capes and very eye catching flashing bunny ears.
Total monies raised is still to be confirmed but the event was extremely well attended and the atmosphere from start to finish was fantastic. Woking Leisure Centre was our new venue for registration, followed by a warm up lead by fitness experts from Nuffield Health and Freedom Leisure, before the ladies set off on the eight mile walk. The sea of flashing lights could be seen through Woking Centre and up to the new hospice in Goldsworth Park Centre, around the lake, and back to Woking Leisure Centre via Horsell. At the finish line the ladies were greeted and presented with medals by event sponsor Richard Roberts, Managing Director of Trident Honda, and newly confirmed permanent CEO of the hospice Jayne Cooper.
Jayne, who was seen handing out bottles of water and bananas throughout the event to the walkers, comments:
Like many charities we are hugely reliant on voluntary income. We deliver specialist palliative care to over 1,400 patients with life-limiting and terminal illnesses each year across six Surrey Boroughs. We could not do all we do without the generosity of our supporters, and all of the ladies on Friday night were our Hospice Heroes.

On behalf of all of us at the hospice I extend a special thank you to our event sponsor Trident Honda and to Woking Leisure Centre for letting us use their wonderful facilities."
We invite anyone who took part in last Friday's walk to share their photos and to use #HospiceHeroes.
The next event on our social calendar is the annual Dragon Boat Race, at Goldsworth Park Lake on Sunday 25 June, which is also sponsored by Honda Trident Honda. There are still a few team places left and it is a wonderful family fun day out - all are welcome.