Pyrford & Wisley Flower Show 2017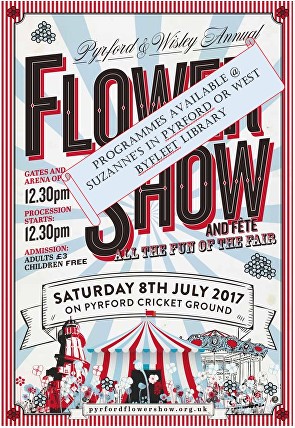 Date: 08/06/2017
Once again Trident Honda is proud to be sponsoring the Pyrford & Wisley Flower Show, to be held on 8th July, with the theme of All the Fun of the Fair.
Gates open at 12.30pm with free parking at the Arbor Centre on Coldhardbour Road. Entrance for adults is £3 and for children it is free.
Trident Honda will have a stand with a selection of new Hondas, including the stunning new Civic.
What is it
The Pyrford and Wisley Flower Show is a traditional village show held on the second Saturday of July every year at the Pyrford Cricket Ground, Coldharbour Road, Pyrford, Woking, Surrey GU22 8ST.
What's on
Please visit the Pyrford Flower Show website for all the Latest Information.
Gates Open at 12.30pm, with a procession from Dane Court to Showground, led by the Surrey Pipe Band, Chobham Morris Men, incorporating the pre-school fancy dress contestants, the Flower Princess and her attendants, the Mayor of Woking, the land train, floats and some surprises!
At 12.50 the event will be officially opened by the Mayor of Woking, and there will be the judging of the children's fancy dress.
From 1pm onwards the marquees open.
Visitors will be able to enjoy the refreshment pavilion, champagne and strawberries, hot food stalls, bar, children's rides, stalls and side shows.
There will be music from the Everly Others by the Cricket Score Board between 1pm and 2pm and again between 3pm and 4.30pm.
There will also be arena events including:
Singing by The Show Choir
Display by Pyrford Primary School
Chobham Morris Men
Music from the Surrey Pipe Band
Darwins Kingdom - Animal Education & Experiences
Prize giving
Draw of the raffle prizes (at the raffle stall)
The show will close at 17.15pm.
After Show Party
From 7.30pm to midnight there will be an After Show Party, with music by Blues Patrol - An Evening of Soul. Early Bird Tickets for the evening are £7.50 for adults or £5 for children, increasing to £10 after 30th June.
Tickets may be purchased from Suzanne's Hair Design, or from the Church of the Good Shepherd (weekday mornings), or by emailing pyrfordaftershowparty@gmail.com.
Further Information