Trident Honda helps to raise more than £18k at Dragon Boat Race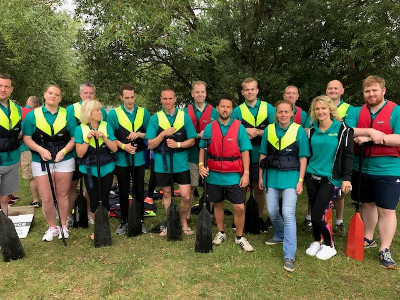 Date: 29/06/2017
Trident Honda partnered with Woking & Sam Beare Hospices for the annual Dragon Boat Race on 25 June, which is expected to raise a final total of more than £18,000, including pledged sponsorship from the rowing teams.
The event, which is held at Goldsworth Park Lake, is sponsored by Trident Honda and in memory of Kris Cook, who grew up close to the lake where he pursued his love of water sports and was a keen supporter of Woking & Sam Beare Hospices.
The race saw teams of 12-20 people taking the plunge to race across the lake in special boats, competing against the clock and each other to win a place in the final race of the day. 12 teams took to the waters, with spectators gathered lake side in the sunshine to watch the teams compete. Activities and hospitality were also on offer with a bouncy castle, BBQ, tombola, face painting and games stalls to entertain and raise funds for Woking & Sam Beare Hospices.
Phil Wormley, the director of fundraising for the Woking & Sam Beare Hospices, comments:
On behalf of all of us at the hospice I extend a huge thank you to our event sponsor, Trident Honda, to their team the Trident Honda Otters and to all the teams who took part in the Dragon Boat Race. We deliver specialist palliative care to over 1,400 patients with life-limiting and terminal illnesses each year across six Surrey boroughs and we would not be able to do it without the generosity of our supporters.
Richard Roberts, managing director at Trident Honda, commented:
We are always delighted to sponsor the Dragon Boat Race and provide support to such a worthy cause. Thanks to our team the Trident Honda Otters for taking part, we may not have won but with just 17 seconds between the first and the last teams it was a hard fought battle! There was a fantastic turnout from the local community on the day and the weather couldn't have been better for it. We look forward to continuing our partnership with Woking & Sam Beare Hospices and helping to raise much needed funds.
After an exciting day of heats, it was the Amstelveense Stadtdraken team who won first place, from Woking's twin town in the Netherlands. Close second came Seymour Estate Agents, followed by the Reg Varney Rowing Club.
Please see a full video of the day below:
And another video of the final race:
The Dragon Boat Race dates back 2000 years throughout southern China and is now taken place annually for 20 centuries. It is a water sport that has attracted the international scene with its religious ceremonies and folk customers. Before every race, a ritual is performed as a good luck charm for all the teams.
For more information please go to https://wsbh.org.uk.
To register your interest to take part in 2018, please contact Rachel Barnett by email: r.barnett@wsbh.org.uk or call the fundraising team on: 01483 881752.