West Byfleet Golf Club Charity Day - Sponsored by Trident Honda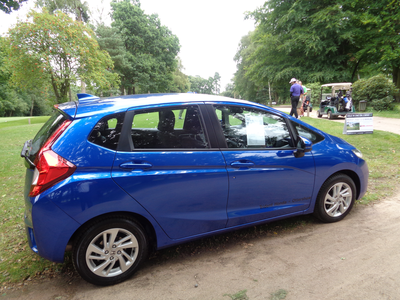 Trident Honda was delighted once again to sponsor the West Byfleet Golf Club Charity Day on Friday 28th July. Trident Honda had put forward the opportunity to win a Honda Jazz should anyone get a hole-in-one on the 17th hole.
The day itself went very well and, despite the weather threatening to ruin the day, in fact the day passed largely unspoilt by rain. Despite much enthusiasm, the pressure clearly proved too much - and the closest anyone reached to the 17th hole was 3 feet! And so the Jazz was duly returned to Ottershaw without having been won.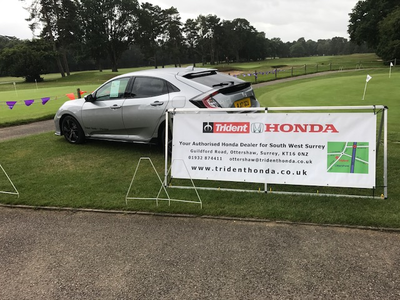 Trident Honda has long had an association with the West Byfleet Golf Club. Roy Hubbard - our sales director of some 39 years, now retired - has been a long standing member, Past Club Captain and also Past President.
Richard Roberts, Managing Director of Trident Honda said:
West Byfleet is in the heart of the territory served by Trident Honda and we have been pleased to support the Charity Day for many years. The large sums of money raised each year are fabulous to see! We are particularly delighted this year for the money to be going to The Woking & Sam Beare Hospice; the hospice having been chosen by the Mens' and Ladies' Captains, in support of the New Build Appeal.
This was of course first and foremost a charity event, and West Byfleet Golf Club hope to raise circa £25,000 from the day, which will go to the Woking and Sam Beare Hospice New Build Appeal, along with approximately £5,000 for other local charities.
A great day for a great cause - well done to all those who took part, and especially to the organisers.
About the Woking & Sam Beare Hospices
Woking & Sam Beare Hospices is a patient-centred charity delivering specialist palliative care for the whole family in the North West Surrey region. Each year they care for over 1,400 patients both in their hospice as well as in patients' own homes, where over 70% of our care is delivered, enabling patient choice and the best quality of life.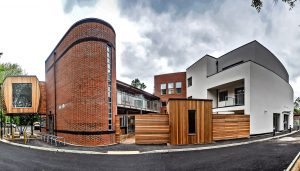 The old hospices in Woking and Weybridge have now been replaced by a new state of the art facility in Woking at a cost of £3.4m. The new in-patient unit has 20 purpose built, private, en-suite bedrooms with family accommodation in each room; which means that, for the first time, families will be able to stay with their loved ones for as long as they wish. There will also be a new wellbeing centre, where even more patients can receive a wider range of physiotherapies, complementary therapies, specialised bathing facilities and clinical support and advice; as well as benefiting from meeting others.
The hospices launched their New Build Appeal in February 2016 to raise the £3.4m needed and have now raised around half that amount. But that still leaves nearly £1.7 million left to raise and that is why events like this Charity Day are so important.
If you would like to support this vital local resource, please visit New Build Appeal today and donate.
Thank you.