Honda Civic Type R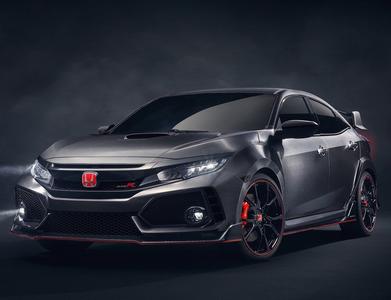 Honda Civic Type R
Advanced dynamics for superior sports handling
Raw power from a refined yet high revving 2.0-litre VTEC TURBO engine will trigger all your senses. It's the most extreme, high-performance engine for a Type R.
The Type R benefits from three new driving modes: 'Comfort', 'Sport' and a track-focused '+R' mode. They allow you to adapt the Type R's response to different surfaces and conditions - whether on the road or the racetrack.
On the track
Record breaker
The Civic Type R is the most powerful front wheel drive hot hatch in the world.
Watch the hottest lap ever for a front-wheel drive car at the Nurburgring:
Key features and improvements
The new Civic Type R is based on the 2017 Honda Civic, which brings with it too many improvements to list here, but some key improvements are:
Third exhaust pipe to reduce engine boom
Comfort suspension option
Throttle auto-blip rev-matching when changing down gears
Increased power
Reduced weight
Lower centre of gravity
Lower seats
Positive downforce
Reduced turbo lag between 2500rpm and 3500rpm
Improved ride and handling fully independent multi-link rear suspension
Are you feeling it? If you like the sound of the Type R's blistering performance, wait till you see it.
New from the ground up, the 2017 Type R is a charismatic hot hatch with muscular, athletic body styling. A more aggressive stance with enhanced aerodynamics delivers a thrilling and engaging driving experience. The wide wheel arches hug the imposing and impressive 20" alloys. Under the track-honed exterior is a new suspension design for confident, sure-footed handling.
Models
There are two Type R models - the standard Type R and the Type R GT.
| Key features | Type R | Type R GT |
| --- | --- | --- |
| Sports seats with leather steering wheel | ✓ | ✓ |
| Alloy gear lever and pedals | ✓ | ✓ |
| 20 inch alloys | ✓ | ✓ |
| Triple Exhaust | ✓ | ✓ |
| Adaptive Damper System | ✓ | ✓ |
| Three Driving Modes | ✓ | ✓ |
| LED headlights | ✓ | ✓ |
| Tonneau Cover | ✗ | ✓ |
| Honda CONNECT with Garmin navigation | ✗ | ✓ |
| Dual Zone Climate Control | ✗ | ✓ |
| Blind Spot information and Cross Traffic monitor | ✗ | ✓ |
| Parking sensors front and rear | ✗ | ✓ |
| Wireless Charging | ✗ | ✓ |
Further information
Please also consider reading Honda's official press release, which includes much technical information that is likely to be of interest to a prospective Type R customer.
In the press
Autocar
Matt Prior, 12th June 2017:
So away from the all-wheel-drive, all-weather mega-hatches, the Honda Civic Type R remains alone, with a fundamentally appealing character unlike anyone else's hottest hatchbacks. And there's quite a lot to like about that.
Inside Lane
One of the best hot hatchbacks in its class? Undoubtedly.

But the great thing about it is that you can hoon to your heart's content in this car and the ease off, slow it down, go back into Comfort Mode, and take the kids to school, or go shopping, or go to work. That's the beauty of a hot hatchback isn't it, that you can have your cake and eat it. You can have the Nurburgring lap time record holder and still use it as a daily driver.
BBC Top Gear
Jason Barlow, 12 June 2017:
We're going to stick our bits on the block and name this the new hot hatch king.
Auto Express
Jonathan Burn, 12 June 2017:
The beauty of a great hot hatch is its dual personality. The ability to comfortably do humdrum day-to-day stuff but deliver a completely addictive drive when the mood takes you. The new Civic Type R now ticks both those boxes and feels far more grown up than its looks would suggest. Honda has addressed the Type R's biggest flaws by making it more comfortable, refined and easier to live with while still providing access to its wild and rapid character when you want it.

And when it comes to simply being a hatchback, the Type R is up there with the best. It's enormously practical, with a 420-litre boot, space for two adults in the rear and a supple ride, which means using it everyday is entirely conceivable prospect.
Car Throttle
Alex Kersten, 13 June 2017:
I'm very happy to report that the FK8 Type R has no obvious flaws that I can think of. It now rides brilliantly, is perfectly comfortable over long distances, looks wicked (I know I'm in a minority here) and is a car you can use as a daily driver and as a track car that will embarrass almost anything you put in its path.
EVO Magazine
Adam Towler, 14 June 2017:
The new Civic Type R is a huge step on from the previous car, mixing surprising refinement with genuine interaction and scintillating pace.
New Motoring
What to make of the new Type R? In a word - it's brilliant
New Car Net
Throughout the Civic Type R there's a recurring theme of precision. There's something almost clinical about the way it dissects a good road, covering ground at a rate we simply wouldn't have thought possible for a front-wheel drive hot hatch a few years ago. At the same time, improvements to the ride, interior quality and acoustics have all succeeded in broadening out the car's appeal. It remains a relatively hardcore choice, but one that's now far more accessible.