Woking Rotary Swimathon hits its tenth year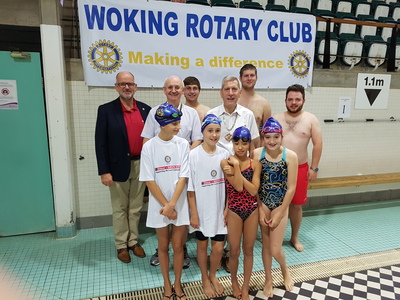 Sunday saw the return of the Woking Rotary Swimathon to the Woking Pool in the Park for its 10th Year, once again sponsored by Trident Honda in Ottershaw. The event was inaugurated by the Mayor of Woking, Councillor Graham Cundy, who very kindly started the event and handed out the first round of medals.
The event, which has been sponsored by Trident Honda since it was started in 2008, has so far raised over £110,000 for local Woking charities.
Richard Roberts, Managing Director of Trident Honda, said:
It's great to be involved with the Woking Swimathon again this year. It is always a fabulous day, that is fun for all those that take part, whilst raising much needed funds for some great local causes.
The event this year is raising money for the following great charities:
Every swimmer was awarded a commemorative medal and the sincere thanks of organisers and the charities.
Terry Smith, the Rotary Club of Woking's Event Organiser, thanked everyone for taking part in what has become a great annual event for the community:
It was great to see so many people involved in the event on Sunday! Thanks to all the Rotarians who helped on the day, and, from the amount of money pledged by the teams, it looks like it should be another successful year for the local charities we are supporting this year!
If you would like to contribute to this amazing event, please visit their fundraising page at: