Trident Honda announces refurbishment of their Ottershaw dealership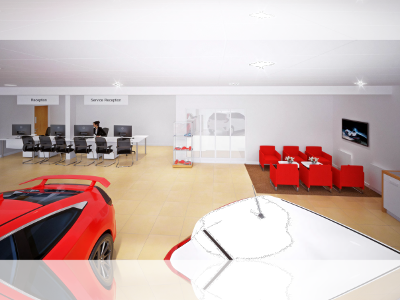 Trident Honda has today announced the imminent refurbishment of their Ottershaw dealership in line with the latest Honda corporate identity.
The work will commence on Saturday (28th October) and will last approximately eight weeks, through to the end of the year. We will attempt to stay open throughout, by constructing a temporary wall to split the showroom into two halves. We will however need to close this Sunday, 29th October in order to construct the temporary wall and relocate the reception counter and sales desks.
Managing director Richard Roberts said:
Since the refurbishment of our workshop in 2015, we have been working with Honda to re-design our showroom. The result we believe will be comfortable, modern and far more welcoming to our customers.
Showroom improvements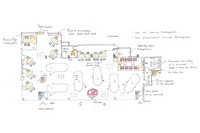 New sales desk area
Honda's current showroom design requires far more space around each showroom display car; therefore all the sales desks will be relocated to the left hand side of the showroom.
New finance sales office
We will also be building a new office for our business manager, as some customers understandably feel uncomfortable having personal financial conversations in the showroom.
New LED lighting
Our showroom lighting will be replaced with modern low energy LED lighting. This new technology will provide us with hugely improved lighting, whilst simultaneously reducing energy usage. This new lighting will be a particular benefit for lighting the cars on display in the showroom.
New floor and ceiling tiles
The major part of the renovation of our dealership will be the replacement of our floor and ceiling tiles and a general redecoration to Honda's standards.
New Honda furniture
All our existing furniture is being replaced, including sales desks and chairs, the reception desks and chairs, and the customer waiting area seating. We have additionally opted for leather seating for the customer waiting area, instead of the Honda standard fabric seats.
New customer toilets
Our customer toilets will be undergoing a complete refresh to a very high standard.
Following feedback from staff and customers we are also putting in an additional door immediately outside the customer toilets.
Redecoration
In addition to all the other improvements, the entire showroom will be treated to a complete repaint to Honda colours.
Service improvements
New service reception desks
The outdated concept of a counter is finally going away, to be replaced with low level Honda desks. This will enable customers to be seated whilst booking in or collecting their cars, and to deal with our staff face-to-face, rather than over a counter.
New customer waiting area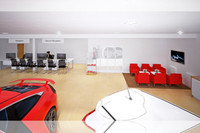 At our last renovation in 2004, we moved our customer waiting area into the centre of the showroom. The intention was good - in that the waiting area was close to the reception desk with aim of ensuring that customers were properly looked after. Unfortunately some customers disliked this central position, feeling uncomfortably exposed. This issue was exacerbated when our sales team were moving the cars on display in the showroom.
To resolve these issues, we are now relocating the customer waiting area to the far right hand corner of the showroom. The new waiting area will be larger than envisioned in the image shown here and will be equipped with a 55" wall mounted television and a modern high quality bean-to-cup coffee machine.
External improvements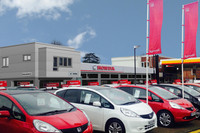 Externally our first floor offices will be re-clad in silver metal, completing the final element of the re-cladding project that we started in 2015. This re-cladding project is intended to make our premises more comfortable for staff and customers in Summer and Winter, as well as reducing our energy consumption.
Lastly, the front of the dealership will be painted in Honda silver.
The overall effect is minimalist and should look stunning. We look forward to welcoming you to our new showroom in the new year.